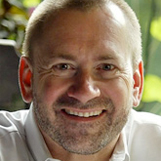 Bill Jensen
Simplicity Expert: Leadership, Innovation, Work
Traveling From
New Jersey
X
Program Descriptions
Work Smarter, Not Harder
Knowing how to cut through all the clutter and keep yourself and everyone focused on what truly matters. In short, working smarter, NOT harder means setting the highest possible standard for staying focused, getting a lot more done in less time, all while engaging the hearts, minds, and hands of others.

Simplicity: The New Competitive Advantage
Bill Jensen has spent the past 25 years studying the biggest sources of work complexity, and how people like you found simplicity. Much of what he found horrifies him! And many of the solutions require nothing more than a little common sense and a little more personal discipline.

Think Epic, Be Epic. Now!
Bill has studied how today's best of the best — 100 Disruptive Heroes — are creating today's biggest innovations. From what he's learned, he's created a master class on quick-hit tips for going bold and doing epic work and how to thrive in today's crazy world.

Simpler Innovation for Everyone
What do you get when you combine the drive to make everything easier with today's chaotic, disruptive era? You get this session with Bill Jensen! From daily routines to corporate infrastructures to training and development, Bill shows how to be more innovative everywhere by making innovation easier for everyone.

Creating the Future of Work…Now!
Bill Jensen has time-traveled to the future! (Researching the tough choices today's leaders must make to deliver the future of work.) He shares what we must do NOW to realize a more amazing and profitable future. This session is a must for anyone leading people into tomorrow.
Why Book Bill Jensen?
Bill's powerful results: He helps companies and teams double their productivity and pursue their passions ... Working smarter for business and personal success!
Time-crunched and overloaded managers? Bill's tips and tools save each individual up to two hours per day!
Strategic issues such as Innovation, Disruption, Future of Work: Bill consults with global C-suite executives on these issues and shares his insights and simpler best practices!
Bill Jensen, Mr. Simplicity, makes it easier to do great work. He has spent the past 25 years studying how work gets done. (Much of what he's found horrifies him.)
Bill is an internationally-acclaimed thought leader who is known for extremely useful content, and his passion for making it easier for everyone to work smarter, not harder.
His astonishing ability to blend efficiency and personal growth have yielded raves like this from the same session: "You saved my team over 1,000 hours this month!" … "Wow. Thank you for your giving heart. You inspired me to be courageous again and embrace my failures in a new way."
His first book, Simplicity, was the Number 5 Leadership/ Management book on Amazon in 2000.
His most recent books — Disrupt! Think Epic, Be Epic and The Courage Within Us — reveal the secrets of success through big, bold ideas and by unleashing your own greatness. His next book will be The Future of Work.
He is CEO of The Jensen Group. Among his clients are Bank of America, Merck, Pfizer, GE, L'Oréal Italia, Genentech, NASA, The World Bank, BBC, Philips Lighting, the US Navy SEALS, Singapore Institute of Management, Guangzhou China Development District, and the Swedish Post Office.
Bill's personal life fantasy is to bicycle around the globe via breweries.
Books