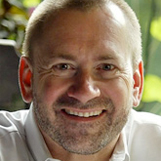 Bill Jensen
Simplicity, Future of Work Expert: Leadership, Innovation, Digital Transformation
Traveling From
New Jersey
X
Program Descriptions
Simplicity: Work Smarter, Not Harder
Everybody is overloaded, and that's not going to go away. Actually, it's going to get worse. We need to learn how to quickly de-clutter any information and get better at staying focused, all while engaging the hearts, minds, and actions of others. Bill Jensen will cover all of that, and more, in this session. He will apply what he's learned after studying simpler ways to work for the past three decades.

Leadership in a Disruptive World
Leadership development — for ourselves and for our aspiring new talent — in today's disruptive environment is hard! Every day, every priority seems to force us all into fire-fighting crises, leaving true development as an afterthought. This intensive session combines proven-in-action development techniques with a much deeper understanding of how disruptive change shapes all of us. Bill Jensen has masterfully integrated the Tyranna of the Urgent with how we develop ourselves for the future.

Innovation and the Future Begins with Us
We are the frontline leaders of the future of work. If... If we chose to take on our role in being and developing tomorrow's disruptive heroes. Bill Jensen has researched and coached thousands of leaders in our role in forging the new future of work. In this powerful, highly engaging session, Bill will lay out how he coaches leaders in developing future strong cultures, focused on innovation, as well as delivering quick-hit tips.

Me to We: Future Strong Teamwork
The biggest challenges you will face in a highly disruptive future of work do not come from 'out there.' They all revolve around your ability to disrupt yourself — to change, adapt, unlearn and learn anew — all while staying united and focused as a team. This session details the disruptions coming at you and details the separate dimensions of being future strong — always ready for whatever the future throws at you.

Think Epic, Be Epic. Now!
What are the habits of today's best disruptive heroes? And what can all of us learn from them? This session will answer those questions, and lots more. Bill Jensen has studied hundreds of today's top disruptors and change agents, and uncovered their secrets. Bill will detail the top five of twenty-five disruptive habits, and exactly how you can use those habits today.


WHY BOOK BILL JENSEN?
Bill's powerful results: He helps companies and teams double their productivity and pursue their passions … Making it easier for everyone to do great work.


Time-crunched and overloaded managers? Bill's tips and tools save each individual up to two hours per day!


Strategic issues such as Innovation, Disruption, Leadership Development, Future of Work: Bill consults with global C-suite executives on these issues and shares his insights and simpler best practices!
Bill Jensen, Mr. Simplicity, makes it easier to do great work. He helps companies and teams double their productivity and pursue their passions.

He has spent the past 30 years studying how work gets done. (Much of what he's found horrifies him.)

Bill is an internationally-acclaimed thought leader who is known for extremely useful content, with a passion for making it easier for everyone to work smarter, not harder.

Bill Jensen makes it easier to leap into tomorrow.

He is an IBM Futurist, and has conducted high-impact future of work research for multiple technology giants.

Bill has written nine best-selling business books, all focused on helping you do and be your best.

His first book, Simplicity, was the Number 5 Leadership/ Management book on Amazon in 2000.

His latest books, Future Strong and The Day Tomorrow Said No, map the tough choices each of us make to create our best futures.

He is CEO of The Jensen Group. Among his clients are Bank of America, Merck, Pfizer, GE, L'Oréal Italia, Genentech, NASA, The World Bank, BBC, Philips Lighting, the US Navy SEALS, the government of Ontario, Singapore Institute of Management, Guangzhou China Development District, and the Swedish Post Office.

Bill's personal life fantasy is to bicycle around the globe via breweries.
Books