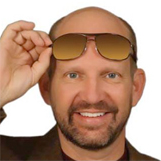 Billy Riggs
Building Success Attitudes Like Magic
X
Program Descriptions
How To Become A Born Leader (Advanced Management Training For Current And Future Leaders.)
The Magic Of Innovation: Explode The Mental Illusions That Inhibit Creativity!
Positively Magical Service! (For Customer Service Managers Or Front-Line Service Providers) Practical, Fun And Immediately Usable!
The Power Of A P.M.A. (Positively Magical Attitude)! (A Fun Morale Boost For All Audiences)
How To Achieve The Impossible! (Fun, Inspiring, Useful Leadership Training)
Positively Magical Selling (Sales Training That's Hilarious, Practical And Unique!)
The Magic Formula For Mastering Change ( For Audiences Facing Change And Needing An Attitude Adjustment!)
Grand Illusions (For All Audiences)
The Magic Of Balance (For All Audiences.)
The Magic Of Serving (For Caregivers, Public Servants And Philanthropic Nonprofits)
New! Safety: The Reality And Illusions (For Safety Meetings)
Pure Entertainment Program (Squeaky Clean! For All Audiences)
The Magic Of Multilevel Marketing (For Network Marketing Companies When You Need A Fun, Practical Keynote To Inspire The Troops Anew.)
The Magic Of Education! (For Classified Staff Or All School Employees)
Positively Magical Teaching! (For Teachers And Certified Staff)
The Magic Of Teamwork
Voted one of America's Top Five Most Entertaining Speakers in 2014, Billy Riggs is a master teacher and has even been called "a psychologist masquerading as a comedian and magician." He uses his illusions and comedy to grip audiences, move them to action, improve attitudes, turbocharge service and sales, and change lives. Perhaps the only entertainer in America who can also be described as a true orator, Billy has been impacting audiences – with or without his magic – through his speeches from the age of 18. Through television, radio, books, videos, and live keynote speeches Billy has used an unusual blend of comedy, music, magic, training, and motivation to spread his positive attitude to more than a million people on five continents. A spellbinding speaker, Mr. Riggs was presenting to audiences as large as 15,000 people at the age of 22. Faculty, staff and students find themselves stirred by his sincerity and power on the platform. In 2002, Mr. Riggs was presented the highest earned award of the National Speakers Association: the Certified Speaking Professional.* Since 1995, he has breathed magic into people, companies and organizations.

But the goose bumps aren't always the result of dramatic oratory. When Billy Riggs appears, things on stage begin to disappear! Using world-class magical illusions to drive home his points, Billy's presentations have transformed hundreds of otherwise ordinary in-services, leadership retreats and assemblies into something truly special. His quick wit and quicker hands spread laughter and raise morale as listeners learn to reshape their destinies by eliminating their "Grand Illusions" and embracing even grander realities.