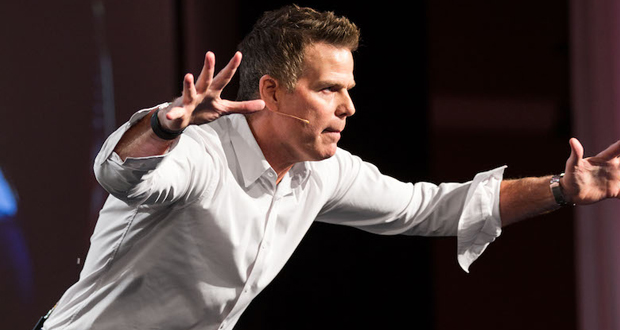 Bo Eason
Former NFL Player, author of the play 'Runt of the Litter'
Traveling From
California
X
Program Descriptions
The Keynote—Executing Your Greatness through Story: This 60-minute presentation is Bo's signature speech. He will present his three critical steps to storytelling, while demonstrating how deeper and more intimate connections with clients ultimately generate more business. Throughout the keynote, Bo weaves in and out of his own personal stories, showing what he's training in real time. He's not just telling stories, he's delivering practical tools on how to:
Create the mindset needed to build immediate intimacy, rapport and trust with your clients
Physicalize how you communicate by learning to use your body as nature intended you to—with power and purpose
Capture the stories that will ultimate impact your business performance.

 Using Bo's process, you'll discover a narrative that will ultimately drive game- changing results for your business.

Stepping into the Power of Your Story (breakout seminar): This four-hour training takes place in a more intimate setting where Bo does one-on-one coaching. He goes deeper into the element of physicality, which is a critical component of the process. Through repetition and a series of exercises, Bo shows them how to use their bodies as an instrument for expression within this small group environment. By the end of the training, they will feel like they are part of an Elite Fighting Force, armed and leading with their personal story.

Personal Story Mastery (Two-Day Training): You will get to experience our flagship Personal Story Power Event, which takes place every year in April and October. The two-day training is customized to your organization and delivers the same value and impact that our three-day event does. Your team members will learn how to start capturing their story, work on physicalizing the expression of it and delivering with power. All of the programs previously mentioned offer similar training and would offer huge value, but the more exposure they have to Bo and his teaching methods, the greater and longer lasting the impact will be.

More extensive training also allows them to take what they learn and implement it faster. Through the power of personal story, your team members will be able to construct and master how to powerfully share the narrative of who they are, distinguishing them from your competitors.
Speaker, performer, author Bo Eason started his career in the NFL as a top pick for the Houston Oilers. Continuing on with the San Francisco 49ers, during his 5-year career Bo competed beside and against some of the greatest players of his generation.

In 2001, Bo wrote and performed his one-man play, Runt of the Litter, which he performed on Broadway to rave reviews. The New York Times called it, "One of the most powerful plays in the last decade." Bo toured with the play in over 50 cities and it is now being adapted as a major motion picture. After seeing a performance of Runt, Leonardo Di Caprio hired Bo to write a screenplay based on the 1924 Olympic Rugby team.

In his quest for excellence on the stage, Bo trained with some of the world's most brilliant performance and movement coaches, Larry Moss and Jean-Louis Rodrigue. Bo now draws from their techniques and wisdom to coach others to be excellent presenters and storytellers.

Bo is dedicated to helping others tap the power of their personal story and become effective, persuasive communicators. He has privately coached some of the most successful leaders in the world, and delivered his keynotes and workshops to groups such as Advisors Excel, Mass Mutual, Guardian, Protective Life Insurance, Dimensional Fund Advisors, Morgan Stanley, and Young Presidents Association. Bo has also appeared as a guest on shows like Bill Maher, Fox Sports Net, ESPN, The Rosie O'Donnell Show and CNN.