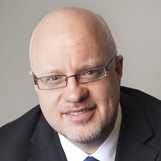 Brett King
Speaker, Startup Founder, Bestselling Author, Radio Host, TV Commentator
X
Program Descriptions
AUGMENTED: Life In The Smart Lane
With technological advancement and the smartphone, we have entered the Augmented Age. We have already begun the behavioral shifts and changes- self driving cars, VR, mobile and apps monitoring health and finance- that will continue to adjust as we come to be evermore interactive with machines.

I will explain how the Augmented Age can be encountered through four disruptive technologies -Artificial Intelligence, Experience Design, Health Tech and Smart Infrastructure.
Interactive technology- How does Experience Design change Health Tech? How will AI change our Infrastructure? And how will the Internet of Things interact with the internet of us.
What will AI and Robots really mean? Will robots take our jobs, and AI's subsume us as inferior intelligences, or will this usher in a new age of abundance?
This is a presentation on future history, and the story about how we will live in a world that will change more in the next 20 years than it has in the last 250 years.

BANK 4.0: Banking Everywhere but a Bank
We already know that banking is something you do and not somewhere you go. But as we see the emphasis on web turn to mobile turn to voice turn to AI, we have run into a glut of confusing innovation with reiteration.
What are the First Principles of design and experience?
Are we reiterating old solutions without realizing that new tech may have eliminated the need and changed the landscape of the problems?
How do we shed legacy technology that isn't serving us, and embrace technologies as they appear without wasting money on reiteration and avoiding clunky transition?
How do we keep First Principles at the core of serving customers and growing our business?

The Rise of Techno-Socialism
While it may not feel like it, in the last 200 years, technological innovation has vastly improved society, increasing general wealth, health, and bettering the human condition. In 1800, 45% of infants died and 90% of people were illiterate, but today, infant mortality is 4.3% and 85% of the world can read. And by the year 2100, every single child will receive a formal education. Technologies like AI, Gene-Editing, Solar Energy, Autonomous Transport, etc.will usher in a new abundance but also cause significant socio-economic shifts.

How can governments react to a time when technology promises to deliver the benefits of so-called socialism, at a fraction of the cost of the most capitalist, democratic governments today?
How do we plan for the automated future when we realize robots have taken over much of old economy labor?
How can we plan educations around the future of learning quickly, unlearning, and learning again?
How will society react when we can use technology to provide everyone with a basic income, healthcare, and education, for less than the cost of building a political movement to sell us the idea that universal care is a bad thing?
Why Book Brett King?


Brett King is widely considered the foremost global expert on retail banking innovation and optimized customer experience.


Founder & CEO of revolutionary mobile bank Moven, Brett King is an award-winning innovator, proven futurist and bestselling author.
Brett King is a futurist, an Amazon bestselling author, an award winning speaker, hosts a globally recognized radio show, is the CEO of Moven, and in his spare time enjoys flying as an IFR pilot, scuba diving, motor racing, gaming (mostly FPS) and Sci-Fi. He advised the Obama administration on the Future of Banking, and has spoken on the future in 50 countries in the last 3 years.

Brett focuses on how technology is disrupting business, changing behaviour and influencing society. He has fronted TED conferences, given opening keynotes for Wired, Singularity University's Exponential Finance, The Economist, SIBOS and many more. He appears as a commentator on CNBC and has appeared regularly on the likes of BBC, ABC, FOX, Bloomberg and more.

He is the CEO and Founder of Moven, a $200m mobile bank start-up, with the world's first smart bank account. Moven's app is used around the globe with over a million users. His radio show, Breaking Banks, began in May 2013. It was the first global show and podcast on FinTech, and has grown to be the most popular with an audience in 177 countries/ 6.5 million listeners.

One day soon he may get a full night sleep.
Books