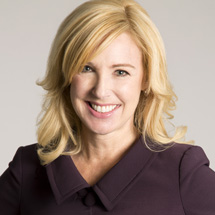 Bridget Brennan
Leading Global Authority on Women Consumers
X
Program Descriptions
Selling In Real Life: The New Role and Relevance of Person-to-Person Customer Engagement in a Changing World
A Keynote Program designed to educate, inspire, and provide actionable strategies for increasing sales by elevating the customer experience. In this compelling Keynote Program, attendees will learn new strategies for thriving in a disruptive sales landscape. Bridget Brennan, author of Why She Buys: the New Strategy for Reaching the World's Most Powerful Consumers and Forbes contributor on sales and marketing strategies, features new content focused on the human side of selling in a digital economy. Spoiler alert: the sales professional's role has never mattered more.

Why She Buys: How to Grow Your Business with the World's Most Powerful Consumers
Women are the engine of the global consumer economy. They drive 70-80% of all consumer spending with their buying power and influence, and they've never had more options for what or where to buy. The question is: are they buying enough from you? In a lively presentation based on her acclaimed book (called "essential reading" by The Wall Street Journal), Brennan educates audiences on how to evaluate sales, marketing, product design and customer service practices from a female perspective. She provides relevant and practical business applications that marketing and sales teams can apply immediately to their jobs. You'll learn enduring principles and major trends that combine to give you a powerful competitive edge. Also available for a business-to-business audience.

Top Trends in Marketing and Selling to Women
As society changes, so does the practice of marketing to women. Strategies that were viewed as contemporary only a few years ago may be viewed as patronizing today. Is your marketing keeping up? Why She Buys author and Female Factor CEO Bridget Brennan provides insights, education and context for the major trends driving women consumers. She distills the deeper meanings behind these trends, and helps your team apply this knowledge to increase the effectiveness of your marketing efforts. From broad demographic changes to gender culture and the global patterns in the way women make purchasing decisions, Brennan offers techniques for breaking through the clutter and staying relevant with the world's most powerful consumers.

The Seven Deadly Sins of Selling to Women
Bridget Brennan, the world's leading expert on women consumers, reveals the most common behaviors that alienate women in marketing and sales, and simple ways to course-correct and kick-start growth in your business. Women are the world's most coveted consumers because they drive 70-80% of all purchasing decisions and buy for everyone in their lives. This makes for powerful math when building your customer base, but only if you do it right. Avoid the classic mistakes and learn how to be best-in-class. Bridget will cover the big trends driving female spending, best practices on how to sell to women and Monday morning strategies to implement immediately. Winning becomes a whole lot easier when you are the business that women choose, instead of your competitors. If you're a business looking to grow your appeal with women consumers, this is the presentation for you.

Mastering the Customer Experience for Women Buyers
Every moment counts when people are trained to click on a better option if they feel unwelcome or uninspired in your place of business. Mastering the customer experience is crucial, especially when it comes to serving the world's most powerful consumers: women. In this powerful speech, Brennan teaches audiences how to amplify key elements of the service experience to create an emotional connection that drives repeat business, positive reviews and referrals. The critical elements of the customer experience are completely within your control. Yet, lackluster service, poor merchandising and low customer engagement are still too prevalent, and represent just as a great a threat to consumer businesses as anything else. Many of the world's biggest brands and retailers have sought Brennan's advice: let her bring it directly to you.
Bridget Brennan is one of the world's leading experts on how to deliver an inspiring, human-centered customer experience in the smartphone age. She is the author of the acclaimed book, "Why She Buys: The New Strategy for Reaching the World's Most Powerful Consumers" (Crown Business), which was called "essential reading" by The Wall Street Journal. Brennan is the Founder and CEO of the strategic consultancy, Female Factor and a contributing writer for Forbes.com and Paris Retail Week.

Brennan brings game-changing insights about the world's dominant consumer force – women - to the forefront of businesses around the world. Through her firm, Female Factor, she has conducted research with thousands of people on their purchasing habits and preferences, and provides counsel to companies on how to better serve their customers, clients and decision-makers. Brennan was named a "Woman to Watch in Retail Disruption" by the think tank Remodista, and is a member of the Vikings Women Advisory Board of the Minnesota Vikings National Football League team.

Brennan is a frequent speaker at top universities, such as The University of Notre Dame, Northwestern University, the Kellogg School of Management (one of the top-ranked business school in the U.S.) and many others. She developed her expertise as an agency executive, creating programs for major clients such as Whirlpool, Johnson & Johnson, Pizza Hut, Colgate-Palmolive, United Airlines and AT&T, among others.

Prior to founding Female Factor, Brennan ran the consumer marketing practice of Edelman's Zeno Group, and founded that agency's Speaking Female division, for which she was named "U.S. Public Relations Agency Professional of the Year" by PR News. A graduate of Texas A&M University, she is based in Chicago, the headquarters of Female Factor.