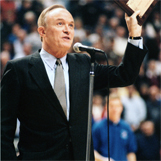 Coach Dale Brown
Author, Motivational Speaker and Retired Hall of Fame Basketball Coach, Louisiana State University
X
Program Descriptions
How Do We Find Success And Happiness? In order to find success and happiness, we must get over the four hurdles of life, which are: I Can't, Failure, Handicap, and Know Thy Self.

We Are All In This Together. The best potential of me is we and as a team working towards a common goal anything is possible. You get because you give.

The Tools Of Leadership. A common quality of great leaders through the ages is they can see things which are not yet there and can relay this image to others.
Why Book Coach Dale?
U.S. Army sergeant and record breaking MBA coach who won SEC Coach of the Year 9 times and lead his team to multiple Final Fours
Considered by many to be one of the 3 best coaches in MBA history
His talents for conveying the importance of team work, ambition, and motivation
LSU Coaching Career

Coach Brown is the only SEC coach to have appeared in 15 straight national tournaments and is the second winningest coach in SEC history surpassed only by Kentucky's legendary Adolph Rupp. 105 of 160 of Brown's players received their college degrees.

Brown and Rupp are the only SEC coaches that had 17 consecutive non-losing seasons and Brown was the only coach in the nation to have ever increased his number of victories six years in a row from 1976-81. From 1977-1986, LSU is the only school that finished in the first division of the conference. The 1981 LSU team is the only team in SEC history to win 17 consecutive league games in one season. Only three coaches in SEC history, Adolph Rupp, Joe Hall and Tubby Smith won more conference championships than LSU's Brown. Brown and Rupp are the only two SEC coaches that won the conference championship in three different decades. Only six SEC coaches have led their teams to two Final Fours or more. They are Dale Brown, Billy Donovan, Joe Hall, Rick Pitino, Nolan Richardson and Adolph Rupp. As well as mentoring Shaquille O'Neal, Brown coached a bevy of NBA first-round selections, and has the distinction of beating Kentucky more than any coach in history.

On nine occasions, Brown was selected as the SEC Coach of the Year or runner-up and seven times he was voted as the Louisiana College Basketball Coach of the Year. On two occasions he was chosen as the National Basketball Coach of the Year. He is a member of the Louisiana Sports Hall of Fame, the Louisiana Basketball Coaches Hall of Fame and was inducted as an SEC Living Legend.

Coaching Prior to LSU

He began his coaching career as a high school coach, teacher and principal in North Dakota. Brown is a member of the North Dakota Sports Hall of Fame and the North Dakota Basketball Coaches Hall of Fame. Brown coached one year at Fort Riley, Kansas and received an honorable discharge from the U.S. Army with the rank of Sergeant.

He spent five years as an assistant coach at Utah State University and one year at Washington State University.

Athletic & Academic Background

In high school in North Dakota he was the state's leading scorer and set the school record in the 440 yard dash.

Brown earned 12 letters in basketball, football and track at Minot State University, making him the schools only athlete to achieve that goal. He received a B.S. degree from MSU and his M.S. degree from the University of Oregon.