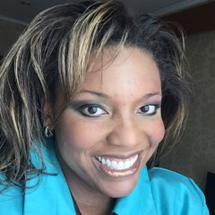 Courtney Anderson, JD
Expert In Leadership & Workforce Law Compliance
X
Program Descriptions
If My Title Says Manager, Why Do I feel Like a Babysitter?
Equality for Everyone! Sensitivity to Diversity with Results
How Can I Please Others and Still RESPECT Myself In The Morning?
It Is A Big World! How To Work Well With People From Countries You Have Never Been To (Or Heard Of)
Why Book Courtney Anderson?


Courtney "the workplace relationship expert" is an internationally renowned media personality and television legal analyst.


In a word, "unconventional." Ms. Anderson utilizes her academic, entrepreneurial, and vast life experiences combined with humor, dramatic styling, and her gift as an entertainer to deliver the most informative, inspiring, and riveting keynote performances in the industry.
Courtney Elizabeth Anderson, J.D., M.B.A., M.S., is "The Workplace Relationship Expert"™ practicing the "Joyful Art of Business"™ around the world! An author, humorist, speaker and:
A global strategic leadership innovator and workplace relationship policy expert who has advised various domestic and international entities including Boeing, Cirque du Soleil, The United States House of Representatives and Wal-Mart. She has global speaking and training clients in North America, Africa, Asia, Australia and Europe.
A business and legal expert for numerous media outlets including Businessweek, CNN - HLN, Cosmopolitan, MSNBC, USA Today, FOX News, CNN International, Cosmopolitan, The Wall Street Journal and many more...She currently hosts and produces a daily radio show and weekly television podcast show, "Solutions…with Courtney Anderson!" available on iTunes and other global platforms with listeners in over 40 countries.
Recipient of the "Global HR Excellence Award in Strategic Leadership" at the 2011 World Human Resources Development Congress in Mumbai, India.
Named as one of "America's Top Women Motivators" & Multi-year nominee as "Top 5 Speaker" for 2010, 2011, 2012, 2013 and 2014.
A practicing attorney (from 1998 in Texas with Bar No. 24006185 and from 2012 in Nevada as an Emeritus Attorney with Bar No. 12544C). In 2011, was selected to serve as a Certified Hearing Examiner for the Texas Education Agency (acted as an administrative judge and presided over cases when a public school educator was subject to termination of an employment contract). Attorney Anderson has been recognized for her pro bono services for children in foster care by the Legal Aid Center of Southern Nevada in 2013 and 2014. In 2016, she was admitted to the Pro Bono College of the State Bar of Texas for delivery of legal services to low-income Texans. Real estate owner (since 1999), investor (since 2002) and educator (Texas Real Estate Commission former Instructor ID# 881311998).
A Collegiate Professor at The Graduate School (MBA Program) at the University of Maryland University College (UMUC) . Received the 2013 Stanley J. Drazek Teaching Excellence Award for The Graduate School and the 2012 UMUC Teaching Recognition Award for The Graduate School. Formerly was on the faculty of the University of Texas at Austin McCombs School of Business. Ms. Anderson is a staff editor of the Atlantic Law Journal and a member of Academy of Legal Studies in Business, the State Bar of Texas, and the State Bar of Nevada.
Holder of a Doctor of Jurisprudence (J.D.) from The University of Texas School of Law, a Master of Business Administration (M.B.A.) and Master of Science (M.S.) from Tarleton State University (member of the Texas A&M University System) and a Bachelor of Arts (B.A.) from The University of Texas at Austin, Texas. Her main academic interests are workplace interpersonal relationships that impact organizational outcomes (integrated with industrial-organizational psychology theory), applied experiential entrepreneurship, and distributed/international workplace management-related issues.