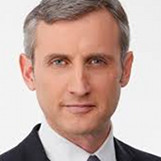 Dan Abrams
Legal Analyst for ABC News & Social Media Entrepreneur
X
Program Descriptions
On the Law and In the News
From today's biggest trials and headlines to President Obama and his relationship with the courts, Dan Abrams covers it all. Abrams provides insightful analysis on current events, the law and the highest profile cases getting the attention of media.
Social Media Strategy in Today's Business World
The media landscape has experienced a revolution which has profound implications for how businesses reach their customers. While the traditional objectives of businesses remain the same – to build brand identity, develop customer loyalty, and communicate with investors – social media has introduced powerful new, and cost-effective tools to achieve these age-old goals. Dan's firm Abrams Research has become a social media leader, advising top corporations on how to adapt to this shifting landscape in order to not just survive, but thrive, in these challenging times. Abrams Research's Social Media Guide for Businesses has become a must read for many of America's largest businesses trying to make social media work for them.
Why Book Dan Abrams?


As a top-legal commentator and social media entrepreneur, Dan offers his views on how the business world can use social media to reach more customers.
He gives an insider's view of today's hottest legal cases and the media's effect on them.
Dan Abrams is CEO of Abrams Research, legal analyst for ABC News and a substitute anchor for Good Morning America. Prior to his appointment at ABC, Abrams was the chief legal analyst for NBC News and MSNBC from 2008 through 2010. From June 2006 to October 2007, Abrams served as general manager of MSNBC, during which time ratings grew by 62% and where he branded the network "The Place for Politics." Prior to his management appointment, Abrams hosted The Abrams Report, a nightly legal affairs program, and later hosted Verdict with Dan Abrams.

In November 2008, Abrams gave up his full time anchor role to create Abrams Research, a social media strategy firm. In July 2009, he launched Mediaite.com, a media news site that combines editorial content with analytic rankings of media personalities. In January 2010, Abrams moved into the tech world with the launch of Geekosystem.com. By February, those two sites and their syndicated content were together averaging an astounding 5 million unique visitors per month (according to Quantcast). Abrams has since launched Styleite.com, a fashion news site with a unique user generated community, the sports ranking site Sportsgrid.com and TheMarySue.com, a geek site for women.

Abrams is also a recognized writer. He has published articles in The New York Times, The Wall Street Journal, USA Today magazine, The American Lawyer and the Yale Law & Policy Review. He has also written for online media properties such as The Huffington Post and The Daily Beast and, of course, Mediaite. He is a regular columnist for Men's Health and in March published his first book, Man Down: Proof Beyond a Reasonable Doubt that Women Are Better Cops, Drivers, Gamblers, Spies, World Leaders, Beer Tasters, Hedge Fund Managers, and Just About Everything Else. He is also the host of Investigation Discovery's Chasing Justice With Dan Abrams.