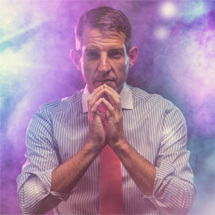 Dan Waldschmidt
KEYNOTE SPEAKER, BUSINESS STRATEGIST, & ULTRA-RUNNER
Traveling From
South Carolina
X
Program Descriptions
THE "IF" FACTOR

The same lessons the Spartans of Ancient Greece used to repel the Persians, the global superpower of their day, are the same lessons Alexander the Great used to conquer the known world and are the same lessons you and your team can use to dominate your industry.

WHAT AUDIENCES LEARN

What it takes to conquer the world...and build a billion-dollar business:
It Takes Outrageous Amounts of Hard Work
Make the Choice to Do the Weird Things
Use Smart Tools to Guarantee Outcomes
Sabotage Your Short-term Cravings
Give So Much Value It No Longer Makes Sense
You Have to Be Willing to "Embrace the Suck"


CREATING AN INTERNAL CULTURE OF SUCCESS

PURPOSE

What if success were predictable? Almost automatic? Driving epic performance is less about the tools and training you offer than the environment you create.

WHAT AUDIENCES LEARN

Dan shares 7 keys strategies to empower outrageous results from ordinary individuals. It's an eye-opening discussion about being the best, self-improvement, and candor.
How your team's perception of effort enables everyone to exceed expectations
How living fit makes your team powerful and prepared for being awesome
How a focused morning ritual can guarantee everyone stays successful
How using smart tools can help your team work smarter and harder
How to make "awesome" a tangible business goal that translates into results
How a mindset of gratitude infuses energy into your daily conquest
How to reset your perception of what's possible to push beyond mediocrity

AUDIENCE PROFILE

This is an inspiring discussion for senior leaders and associations who need to generate high performance out of themselves, their team, their company, or their members.

APPLICATIONS

Learn 7 proven strategies shared by Dan and employed by unlikely Olympic champions, billion dollar business startups, and industry juggernauts to cultivate winning mindsets—and ultimately become unstoppably successful.


EVERYTHING YOU THINK YOU KNOW ABOUT SUCCESS IS WRONG

PURPOSE

Ultimately, success is not about what you do.It's about how you think. How you approach problems, how you fundamentally see the world determines your outcome.

WHAT AUDIENCES LEARN

Dan shares 4 keys lessons for breakthrough he has brought to the biggest companies in the world. It's a hard hitting discussion about perspective, possibility, and achievement.
How to expand your perception of possibility in order to overcome obstacles
How to execute flawlessly and consistently in spite of factors that are out of your control
How to harness the power of being valuable to make people feel awesome
How to build emotional intelligence that drives results that aren't based on existing logic

AUDIENCE PROFILE

This is a powerful discussion for senior leader retreats, company-wide events, kickoff meetings, and any audience you want to perform at an elite level.

APPLICATIONS

The EDGY philosophy lends itself to solving life problems in all areas. It makes your audience better at what they're already good at and it provides an inspiring roadmap of how to continue to be even better.


Growing sales with less complexity
Empowering teams to exceed expectations
Achieving fitness physically, mentally, & financially
Leadership that motivates people to be better


28 Epic Strategies to Take Your Business to the Next Level

PURPOSE

Your organization has already achieved some impressive metrics. But you've realized that to get to where you want to be, that's not going to be good enough. You understand that for your organization to achieve results you've never had, you have to do something (or "somethings") you've never done before.

WHAT AUDIENCES LEARN
How to Craft a Winning Strategy
Developing a Culture of Champions
Why Battles Are Won on the Training Ground, not the Battlefield (the value of preparation)
Why Hard Work Works (and how to work hard)

21 Reasons Why Your Global Growth Plans Still Aren't Working

PURPOSE

Dan Waldschmidt shares the secrets of his world-renowned consulting firm in such a way that you'll leave breathless—but inspired to create your own outrageous success story.

WHAT AUDIENCES LEARN


The value of local relationships in the global battle for industry domination
Why "trial balloons" will always burst -- and leave your whole company in shambles
What to do when you (and your firm) don't know what to do



Sales Secrets of Billion-dollar Companies



PURPOSE

Drawing on over a decade and a half of massive scaling both startups and Fortune 500 firms, Dan Waldschmidt shares 21 ideas to help you achieve the same level of success—everything from smothering your customers to using your humanity to your advantage.

WHAT AUDIENCES LEARN


Why empathy is everything
Honesty is more than just telling the truth (it's about recognizing when a win was just plain luck)
How giving it all away can be a successful sales strategy

34 Killer Secrets of High Performance

PURPOSE

Working with the largest organizations around the world, Dan Waldschmidt understands the keys to unlocking breakthrough success. He works with firms in over 30 different verticals in 13 different countries to market, message, and scale massive growth efforts across the enterprise. The secrets he's learned and that he'll share have increased response rates by 520x and generated 900% revenue growth - and will help you drive the success you've been yearning for.

WHAT AUDIENCES LEARN


How to deal with stupid people
Framing up the message regardless of communication platform
Emotions matter. Even when you think they don't.
Dan Waldschmidt doesn't just talk about success. He's obsessed with it. As a champion ultra-runner and elite strategist to business leaders across the world, Dan pushes the limits of high performance in everything that he does. Whether it is helping a Fortune 100 business grow an emerging business unit by 1,000% year-over-year or showing a new work-from-home entrepreneur how to drive radical progress with limited resources—Dan uses every ounce of his energy to build winners. He calls it "EDGY". You might call it "that thing I knew I needed but couldn't put into words".

He has fought depression (and MMA), spearheaded his own multi-million dollar company turnaround, and writes a popular blog that over 30 million people around the world read. If you care about these sort of things, The Wall Street Journal praised his writing as one of the most influential sales and business blogs. His insights have been published in Business Insider, Forbes, Vanity Fair, CNBC and countless other news, radio, podcast, and TV outlets.
Books

EDGY Conversations