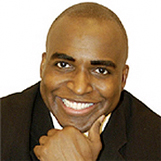 Darin Green
Performance Expert
X
Program Descriptions
Stay In It!
BECOME A CHAMPION AT WHAT YOU DO!
It doesn't matter if you are sweeping floors, head of IT, regional manager, salesperson, customer service representative or the CEO of the company; when you are driven to be the best at what you do, everything changes for the better. You not only perform better, you feel better, enjoy your work more, walk taller and become a better person. No matter what your job title, how long you have been at your job or what kind of challenges you face, it's imperative to work at being the best in the world at your job. This is what the Stay In It program is all about: never accepting average, always driven to achieve excellence and become the best at what you do. Through 7 very compelling steps, Darin Green shows his audiences the enormous benefits of staying in it to win it! This re-energizing program is full of practical insights and tools that will help your team raise their performance standards and their performance to the highest level.

MORE ABOUT THE PROGRAM:
When you stop improving, innovating and accept mediocrity, you have dropped out of the game of life. When you choose this route, you can expect nothing but the worst because you have given up the greatest gift of all: life purpose and the power to improve yourself by striving to become the best at what you do. Difficult times and daily routines can cause you to lose the drive for being the best at what you do. Stay In It! re-energizes and reawakens the passion for excellence that is necessary to create the highest version of yourself and move from average to outstanding! The transformation starts with knowing what type of attitude and work philosophy you currently have. What type of attitude and work philosophy will it take to cultivate excellence, and what type of attitude and work philosophy do you want? Stop making excuses. Set a new attitude goal, create an empowering work philosophy, take action using the 7 Stay In It steps, and enjoy the journey.

Using a highly passionate, direct approach, Darin motivates, enlightens and entertains the audience. His dynamic delivery and eye-opening content captivates and engages any audience. Each audience member takes home new tools, motivation and practical steps that will help them incorporate Darin's message into everyday life. Darin challenges each person to take a hard look at their attitude, work philosophy and results and determine if they are conducive to striving to be the best. The objective of this program is for each person to improve their performance and maintain the drive for excellence and being the best at what they do.

We all experience setbacks, disappointments, broken dreams, growing older, change, and living in volatile, uncertain times. These circumstances can be a recipe for low morale and mediocre performance. It's essential to know how to transcend life circumstances – and Stay In It! Using Darin's seven steps that are based on high achievers throughout history, Darin resuscitates his audience from a mediocre, average performance.

Stay In It! generates the drive for excellence. Morale will increase while pessimism and excuses decrease. This inspiring, engaging presentation is great for an opening or closing keynote and or concurrent sessions.

Anything is possible!
Creating The Highest version of yourself!
Research studies have proven that optimistic people in every industry and profession are better leaders, team workers and managers. It is now scientifically proven that optimistic people are harder and smarter workers than those who are pessimists. They are also healthier and live longer lives, even though they work more than pessimistic people. A pessimistic attitude severely hinders a person's ability to achieve peak performance. This seems rather obvious. Yet, many organizations fail to take serious action to help the people in their organizations learn the skills to create an optimistic mindset.

Through consistent optimistic expansion, we align ourselves with the creative power of our mind that gives as the ability to go up, over, around and through any setback, disappointment, conflict or problem and take our performance and life to the next level. This is what the Anything Is Possible program is all about: never accepting a problem or challenge as unchangeable and pervasive. Doing everything we can right where we are with what we have at the present time to create a higher level of performance and create the highest version of ourselves. It's about no limitations or excuses. This program generates a negative-free mindset. You will learn 3 powerful steps that will have your audience well on their way to increasing and maintaining an optimistic attitude that unleashes untapped potential and creativity and helps create performance excellence.

MORE ABOUT THE PROGRAM
When it comes to performance excellence, optimism is everything. When we truly believe that anything is possible, we become in alignment with our human potential and power. We become fully alive and it improves all aspects of our lives. People who are optimistic & confident:


believe that they can do anything they put their mind to. They believe they can improve their performance and be one of the best at what they do.
are less likely to blame others and give up the first time something goes wrong.
are more creative and see the possibilities and opportunities that other people do not.
are unbreakable and get excited about overcoming challenges rather than discouraged by them. They bounce back more quickly after failure or rejection.
are exceptional leaders and inspire the people around them towards a shared vision or goal.
adjust to change more easily and aren't afraid to learn new things.

There has been countless studies on optimism, and they all come to the same conclusion that optimism is good for our health! Optimists have less stress, live longer and perform better in all areas of life.

Change Happens. Winners Adjust!
HOW TO STAY CALM, FOCUSED AND DRIVEN DURING CHANGING TIMES
To improve in any area of business or life, change must occur. With mergers, acquisitions, re-engineering, re-strategizing, re-focusing, and difficult economies the era of predictability is over. Add to the mix the shortening time span of the surprise of change and the fact that change is the new business norm. Almost all industries and organizations are constantly forced to do more with less and continually improve process and product. What this all means is that everyone in your organization must embrace change.

In Change Happens, Winners Adjust!, the turnaround and enlightenment start with a self audit of your change-adeptness. Learn three things you can do to immediately become more adept at mastering the change process. Darin shows you how to gain control of yourself during times of change and how to control change instead of change controlling you.

MORE ABOUT THE PROGRAM:
Successful people and organizations are those that initiate and embrace change! Yet most people view change as a setback, and by doing so attract frustration, fear, difficulty, and failure. Change Happens and Winners Adjust! empowers and shows your people how to become change-adept professionals who are resilient and not only survive change, but flourish in changing times. Darin gives the audience step-by-steps tools and practical information they can use immediately to bring about lasting, healthy individual and organizational change.

Administrator Super Charge
Revitalized, Recommitted and Ready
Stress prevention and management are a critical piece of professional development for principals and administrative teams. It is an important tool for school reform. Principals with extraordinary leadership skills have learned that taking time for their own professional development is not taking time from their schools. It is a major part of taking a school and district to the next level. When administrators feel amazing, their leadership is amazing. This is why the first priority for extraordinary leadership is taking good care of a very important person in the building – called you.

Like many professions, it is not always easy to see that the joys of being a principal far outweigh the frustrations and difficulties. Being a principal is often a stressful and lonely job. There is only one principal in a building, and everyone brings them their problems. Often a principal has no nearby peers to offer support to help them function effectively and assimilate quickly to a host of these types of challenging experiences, responsibilities, and duties: Unfunded mandates. Increasing expectations on the state level, but decreasing assistance. Not having the resources to be effective at the job.

Carrying out rules and laws made by people who don't understand public schools, who have never taught in a classroom before nor have ever seen how out-of-control behavior can disrupt learning. New rules and mandates, adding to the paperwork and taking away time from staff, students and parents.

Budget or staffing constraints or the lack of community support, which, in turn, results in further loss of community support, staffing, and budgeting.

A shortage of quality teachers and underfunded federal and state mandates for improving aging facilities.

Families who do not value education and/or support their school's efforts.

Losing students who have the potential to excel. When a student, for whatever reason, decides that their education is no longer important and leaves school without a diploma.

Negative staff who consistently spread negative energy to the other staff members and refuse to buy into things that would have a positive impact on student achievement.

Staff who accept mediocrity and are not living up to their potential.

Teacher Super Charge
Revitalized, Recommitted and Ready!
Every year teacher dive into unknown waters. Schools have no control over how prepared students are to learn when they walk through the school door. In classrooms throughout the country, teachers are meeting the academic, social, and personal needs of 25 to 40 children from every culture, economic level and personality type. They are managing class rooms with students with IQs ranging from 80 to 150. Dealing with:

A lack of time
Oversized Classrooms
Students who are Technophiles who get bored easy
Cyberbullying bulling carried into the classroom
"Testing, testing, testing,
Lack of and or over Parent involvement
Low salaries
Lack of guidance and resources for lesson and unit planning.
Lack of cooperation or even hostility between teachers
Structural Challenges Cultural Challenges
When Darin Green speaks at your event, your audience will feel it from their head to their toes! Performance Strategist Darin Green was born to motivate and empower others. Darin began speaking professionally after appearing as a guest on Oprah for his innovation at employing and motivating disenfranchised youth with his successful franchise. Oprah was so moved by Darin's work that she suggested he write a book and share his wisdom and passion for empowering and motivating others. Darin did just that. Since that illuminating day, Darin has become one of our nation's premier keynote speakers. As a performance expert and successful author, Darin's passion, humor, and wisdom have brought tremendous value and entertainment to meetings and events around the world. His engaging presentations are consistently helping individuals and organizations overcome obstacles and self-imposed limitations and maintain the drive and passion for excellence.

Results:
Darin's natural gift for connecting with audiences, skillful use of humor, solid content, and entertaining delivery style have catapulted Darin and his electrifying presentations into numerous Fortune 500 Companies, associations, and organizations throughout the world such as: Hewlett-Packard, Wachovia, Mall of America, U.S. Navy, Ford Motor Company, Northwest Airlines, 3M, FDIC, American Express, International Professional Management Association, Maine Human Resources Association, Choice Hotels, U.S. Army, Hillenbrand Industries, Blue Cross Blue Shield, Kaiser Permanente, Mississippi Hospital Association, General Mills, Harley-Davidson.

Substance:
Darin Green is a highly dedicated, focused speaker and an expert at enhancing performance. Darin is like a success scientist; he is consistently researching to find the information that will help your organization and audience create the highest version of themselves. He consistently updates his presentations by integrating current findings in the latest research to ensure his material is relevant, timely, interesting and compelling.

Experience:
Darin holds Bachelor of Philosophy degree. Darin Green has a diverse business background that includes sales, customer service, management and entertainment. From a young age, Darin has been a daring entrepreneur and business owner. Since the age of 21, Darin has managed employees, motivated sales teams, and supervised marketing and advertising personnel and telemarketing crews. Darin's first major business venture was a partnership with multi-million dollar Jani-King franchise, leading his franchise to become the fastest growing in his region. Darin is a successful author. His books include Anything Is Possible, Stay In It, Path to The Unbreakable You Course, Weight-loss Power on The Go, Your Unlimited Possibilities, Cultivating Harmony & Excellence Teacher's Classroom Manual (a life skills success course used in high schools across the country). Founder and Executive Editor of Dream Soldier Magazine (The Ultimate Magazine for Reaching Your Goals and Dreams), Darin is currently the founder and CEO of Darin Green Productions and Unbreakable Institute. Both companies are dedicated to helping individuals from all industries, communities and professions improve their performance and life. Darin's organizations are built upon the inescapable reality that people are the world's most valuable resource. Darin has synthesized his impressive business and life experiences into presentations that motivate individuals to master and harness the power of their most valuable resource – themselves.

INTERESTING FACTS ABOUT DARIN:
Darin suffers from severe dyslexia, yet he has written 6 books.
Darin once weighted over 300 pounds and stared in a national TV infomercial for one of his weight-loss products.
Darin dropped out of college to become the front man and lead singer of the funk rock band Laissez-Faire, which was a favorite on the college circuit and other venues. He went back to college to receive his undergraduate degree in philosophy.
Darin has written 50 songs.
Darin was a once a state champion in Tae-Kwon-Do.
Darin's life experiences made Darin a quick study of life and taught him early on how to move from excuses to excellence. These experiences, along with a tremendous amount of hard work, years of research and a deep dedication and love for speaking and empowering others, will give your organization and event a premier keynote motivational speaker with a proven track record who will hit the target for you each and every time!