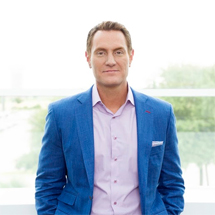 Darren Hardy
Mentor To CEO's & High-Performance Entrepreneurs
Traveling From
California
X
Program Descriptions
IGNITING THE COMPOUND EFFECT
How to jumpstart your income, your life and your success

The truth, told straight. The real deal on what it really takes to earn success—made plain, simple and actionable. Success Mentor Darren Hardy draws from his own extraordinary journey to success, and all he has collected from interviewing the most successful people of our time, and distills it into the core fundamental principles every achiever needs to know, practice and master to obtain anything more than ordinary success. Darren outlines the operating system that underlies all significant achievement and delivers a complete action plan that anyone can start executing immediately.

THE ENTREPRENEUR SUCCESS EXPERIENCE
Why NOW is the Time to #JoinTheRide

66 percent of small businesses fail—and it's not for the reasons you think. Darren set out on a mission to figure out why and to turn this statistic around. His discovery was startling and contrary to most assumptions.

Failure was not due to outside factors—they were internal. They weren't economic—they were emotional. The unexpected and terrifying emotional roller coaster an entrepreneur experiences is the greatest factor in why most quit and ultimately fail.

This keynote is designed to prepare your people for the wild ride of entrepreneurship. It will warn them (of forthcoming fears, doubts, and the self-defeating conditioning of your upbringing and past), inoculate you (from the naysayers, dream-stealers, and pains of rejection and failure), and guide you (as you build those under-developed skills of independence, self-motivation, and self-accountability) safely past the landmines that blow up and cause the failure of most new business owners.

You will learn the best strategies Darren has ever collected from the most successful people on the planet. You can pick from one or two of the four essential skills necessary for entrepreneurial success: Sales, Recruiting, Leadership, and Productivity.

21ST CENTURY LEADERSHIP
Learning to lead, influence and empower a team to high performance in these fast-changing, ever-evolving times.

The core attributes for effective leadership have changed. How do you lead in today's fast-moving and ever-evolving times? Learn the attributes and skills necessary to lead a dynamic team made up of five generations.

THE PRODUCTIVITY STRATEGIES OF SUPERACHIEVERS
How Richard Branson, Steve Jobs, Warren Buffett and others produce far more in less time than the rest of us.

From the thousands of printed pages and hundreds of hours of personal interviews with today's most extraordinary achievers, Success Mentor Darren Hardy identifies the 3 distinctions that make the difference between being an overwhelmed, overworked and overscheduled overachiever and being a super-achiever who produces stunning results with less effort, less stress in less time, leaving lots of time to experience your hobbies and be with your family.

THE BELIEF SYSTEM OF SUCCESS
How to change your beliefs so you can change your results and your life

Our beliefs shape our destiny and ultimately determine our results. Our beliefs either burden or embolden our inner potential and the potential of our future. They control everything we are and everything we do (or don't do).

Learn how to change your beliefs and you can change your life. Learn how to change the limiting beliefs that continually sabotages their success. Remove the barriers to their greater success—in your business and in their life.

THE X-FACTOR OF SUCCESS
How to create a culture of personal growth and high performance.

What separates those who end up on the cover of SUCCESS magazine from everyone else? What do today's most celebrated achievers study, practice and do that defines their extraordinary success? Success Mentor Darren Hardy reveals the three core strategies they use to outsmart, outcompete and outdo everyone else. Learn and apply these strategies and you can too!

THE 4 LANDMINES OF SUCCESS (for Direct Selling)
Overcoming the only obstacles that can stop you from being successful in building your business

Why now is the time of greatest opportunity in history—how to take advantage of it and how to avoid the potential landmines that can unexpectedly destroy your chances of success. This presentation will identify and reinforce the commitment, accountability and continual productivity necessary for success. It will also identify the emotional resilience needed to overcome the minefield of fear, doubt, rejection and the inevitable and relentless naysayers.

FOCUS: FINDING YOUR LEVERAGE FOR MASSIVE GROWTH
Finding and keeping focus on the key small causes that create BIG results.

This is the single greatest success secret I have ever discovered. It was given to me by a Centenarian who immigrated with his parents from the (now known as) Ukraine and grew up in abject poverty and went on to become massively wealthy, highly respected and very well loved--the trifecta of success as far as I am concerned. This is the single insight he attributes his vast fortune and great success. In this keynote I reveal the principle and teach how to apply it, specifically into the business model of the audience.

PRIVATE LEADERSHIP WORKSHOP (for Direct Selling)
4–5-hour workshop on the leadership dynamics of building a large direct selling network.

There are two major chasms to bridge for direct selling success.

The first is the emotional hurdle of naysayers, doubt and fear one faces when they first get started. This is where 70–80% attrition is experienced as people quit before they really get started. Warning, inoculation and deepening a new person's commitment is the purpose behind Making The Shift: Your First 7 days. Developing the Entrepreneurial Mindset and keynote trainings of Igniting The Compound Effect and The 4 Landmines of Success.

The second major chasm is the fact that typically less than 1% of representatives rise to the upper levels of leadership. There is a tremendous growth opportunity in developing those who continue to stick around, into leaders and organization builders whom finally rise in the compensation plan. This requires teaching them key people and promotional skills and educating them on the system of large organizational growth. They need to be taught the model and methodology of building a disciplined, replicable, people-based business.

Being taught by a third party (removed from the internal leadership "people politics") with the leverage of brand credibility and a specific track record of success outside and inside direct selling is particularly effective to drive these messages home and across your entire field organization.

ACHIEVING EXTREME PRODUCTIVITY
Learn the Proven Methods for Achieving EXTREME Productivity

In this 4-5 hour workshop Darren reveals the productivity system, tools and strategies used by the most elite achievers of our time.

This is your exclusive window into the minds, lifestyles and daily processes of the most elite achievers of our time and the specific systems and strategies they use to create their extraordinary results.

As a business leader in the success industry for two decades Darren has had unique and direct access to today's elite achievers. Through this exclusive training program Darren reveals their personal productivity secrets.

THE ENTREPRENEUR SUCCESS EXPERIENCE
4-5 hour workshop on the core essentials of succeeding as an entrepreneur. Darren takes your audience through the entire entrepreneur success journey covering the emotional onboarding process as well as all four essential skills necessary for success: sales, recruiting, leadership and productivity. See THE ENTREPRENEUR SUCCESS EXPERIENCE keynote above for more information.
Why Book Darren Hardy?


He is the visionary force behind Success Magazine who helps groups achieve spectacular, life-changing results in business.
He simplifies the fundamental principles that guide phenomenal achievement in business, relationships, and beyond.
He shows audiences how to multiply their success, chart their progress, and achieve any goal.
My family and I were in Tahoe skiing Heavenly Valley. I was 6 years old. It was the end of the day, and I couldn't wait to see my dad. I saw him at the bottom of the hill packing up my little sister's skis. I unclipped my skis and ran toward him, "Dad! Dad!" I said proudly, "I skied by myself all day long and didn't fall down one time!" Without looking up he simply said, "Well, then you didn't get any better." I stood there stunned. It was not the response I expected. A few seconds passed, he looked up at me and said, "Look Darren, if you don't push yourself PAST your current ability, then you can't grow. You have to fall to improve. Falling is part of getting better."

I heard this over and over growing up. In fact, on our garage wall, which doubled as my dad's gym, was painted in big black block letters: NO PAIN, NO GAIN. I owe much of my success to this philosophy.

I became an entrepreneur at 18 years old. I started like every entrepreneur starts—afraid, nervous, and without a clue what to do or what to expect. I had no prior experience, no training and no guidance, except for that mantra: Falling is part of getting better. So, I just kept falling. I got lots of skinned knees, bloodied noses and repeated bruises on my pride and ego… but that is also how I improved, got better and eventually figured out how to do it right.

20+ years ago I FELL into the personal development and success field of sorts. I was the executive producer to a television network called SuccessTV. That is where I met, got to know and eventually be mentored by Jim Rohn… and become friends with most every thought leader you can think of in the success industry.

I've been at the center-point of the success industry ever since. I have now led three different television networks in this industry and spent nearly a decade as publisher and editor of SUCCESS magazine. These respected platforms have given me unprecedented access to study, interview, spend time with and publish the stories of the most successful people on the planet. Incredible achievers like Richard Branson, Steve Jobs, Elon Musk, Jeff Bezos, Mark Zuckerberg, Howard Schultz, Steve Wynn, Jack Welch and many, many more.

This exceptional 25-year journey puts me in a unique position to be a valuable guide for you. No one has had greater access and spent more time investigating, collecting and curating the best ideas, insights and strategies on success from the most successful people of our lifetime than I have. It has not only been my nearly 24/7/365 obsession; it has been my business. You can say, I've put in the 10,000 hours here, so you don't have to. I can now give you the distillation, the summary notes, of that exceptional 25-year living laboratory, complete with action steps on how to multiply and significantly accelerate YOUR success.

Additionally, I have had to Be The Exception in every endeavor I've tackled. Nothing I've ever done I had done before. I was never trained or educated to do anything I ended up doing successfully. I had to defy the odds, I HAD to Be The Exception. Through my own experience, I now know how to… and I can show you.

My A-Team and I help business leaders and high-achievers
GROW, go for EXCELLENCE and make an IMPACT.

We exist to be a guide for those who choose to Be The Exception.

For those who want to go beyond and strive to be better.

For those who are willing to learn more, grow more, invest more and go for more… to do what others don't, so they can live the life others won't.

We exist to be a guide for those who seek to become all they can with all they have been given.

For those choosing their better future, to live the life they were meant to live.

We exist for you if you choose to… Be The Exception.