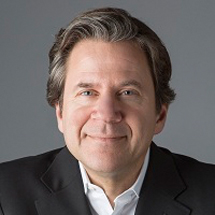 Dave Zilko
"Serial Entrepreneur and Former Vice Chairman of Garden Fresh Gourmet"
X
Program Descriptions
DAVE ZILKO CAPTIVATES AUDIENCES WITH HIS HEARTFELT, ONLY IN AMERICA STORY
What's it like to take a bankrupt startup and eventually sell it to a Fortune 500 Company for almost a quarter-billion dollars?
And more importantly, what lessons can be imparted from such an experience that will help you live the life you've imagined for yourself?

As an entrepreneurship keynote speaker Dave Zilko guides his audiences through an only-in-America story that details how he and his partner, starting with literally "less than nothing," launched a fresh salsa company from the back of a tiny restaurant just outside—of all places—Detroit. Despite incredible odds they eventually built the premier deli supply company in the United States that the Campbell's Soup Company recently purchased for $231 million.

Presented in an authentic and often humorous manner, Dave Zilko inspires and informs. It's a genuine "rags-to-riches" adventure that also conveys lessons regarding the role of entrepreneurs in an organization, how values affect a business, a counter-intuitive sales and marketing approach, and corporate strategy insights that are invaluable to both any upstart organization or established corporate entity.
Dave Zilko founded his first specialty food company more than 20 years ago on a $2,500 credit card loan. While today Dave remains an equity partner in several food-oriented enterprises, he recently exited active involvement in the industry when he engineered the sale of Garden Fresh Gourmet, makers of the number one brand of fresh salsa in North America, to the Campbell's Soup Company for $231 million. Dave was a partner at Garden Fresh for 13 years, serving as Vice Chairman with primary responsibility for strategy and sales.

Today Dave has an equity stake in and is CEO of FUEL Leadership—a digital media property that also organizes business events featuring an exclusive list of rock star-level speakers—a roster that spans the spectrum from business to entertainment.

Dave is also an operating partner at Huron Capital, a Detroit-based private equity firm with over $1 billion under management. He serves on the boards of the $60 million Grow Michigan venture fund, of Jimmy Buffett's charitable foundation, "Singing for Change," and is on the executive board of the largest food rescue organization in the country, Forgotten Harvest. Dave graduated from Michigan State University with a degree in finance and earned a Master of Business Administration in marketing from The George Washington University.
Books

Irrational Persistence