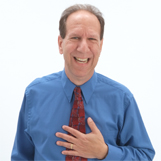 David Glickman
Clean, Clever, Customized Corporate Comedian
X
Program Descriptions
Custom Corporate Comedy
David presents the most current and relevant humor for your group's specific industry or place of employment. He will also include any theme or message or initiative that your group is embracing (or resisting!)

A Dose of Healthcare Humor™
A program designed to positively address situations and frustrations that the typical healthcare professional deals with in his or her job.

Punchline Your Bottom Line™
Learn the tricks, techniques and secrets for getting laughs from any business audience in any business situation. The highlights of David's popular book are brought to life in this entertaining and educational session.
Why Book David Glickman?


He shares lots of common sense business strategies with corporate audiences while using business humor to highlight your company.
He delivers observational humor, funny visuals, props, and hilarious song parodies, all customized to make your event unforgettable.
He also delivers program designed to positively address situations and frustrations healthcare professionals face like - patient relations, managed care, healthcare bureaucracy, and much more!
David Glickman works with organizations that want to add some comic relief to their events in order to make them really fun and memorable. With a portable keyboard slung over his shoulders on a strap, he combines humor and music in an exciting customized presentation unlike anything you've ever seen.

David has been a professional speaker and entertainer since 1985 and has presented over 2000 programs. He has appeared on "Evening At The Improv" and several other national television shows, He has been the opening act for stars such as The Beach Boys, Engelbert Humperdinck, Ellen DeGeneres, Ray Romano, and more.

David has worked with Steve Martin on a comedy project for CBS-TV and has performed at private parties for singer Gloria Estefan and former President Jimmy Carter. In 1994, he was voted "Funniest Person in America" in the Entenmann's National Comedy Contest.

David is also a business owner, so he is able to share lots of common sense business strategies with his corporate audiences. He's owned several comedy clubs in the South Florida area and in Atlantic City Casinos, which garnered praise in Rolling Stone Magazine and other publications.

David specializes in customized business humor, and is an expert in "finding the funny" in the many Fortune 500 companies to whom he has spoken. He's the author of "Punchline Your Bottom Line: 76 Ways to Get Any Business Audience Laughing", with a Foreword by Dave Barry.