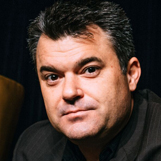 Dean Lindsay
Empowering Progress in Sales, Service, & Workplace Performance
X
Program Descriptions
Cracking the Networking CODE – 4 Steps to Priceless Business Relationships
You can't achieve your best without learning the all-important art of connecting. Dean Lindsay's rip-roaring CODE Cracking programs, based on his best selling business book Cracking the Networking CODE: 4 Steps to Priceless Relationships, are filled with fresh insights to build meaningful, profitable, win-win relationships for business and life.

The Progress Challenge: Working and Winning in a World of Change
The Progress Challenge is just that, a challenge – a challenge to progress, a challenge to work and win in this world of continual, mind-spinning change. Meeting this challenge creates better leaders, better team members, better human beings.

Cherishing Customers – Earning and Maintaining Customer Loyalty in a Down Economy
In tough economic times, Customer service IS the difference between success and failure. This innovative program encourages participants to internalize three powerful insights about customers and introduces them to unique and powerful models for inspiring true customer loyalty.

The Rise of PROGRESS LEADERSHIP – Change Management Training for a PROGRESS Based World
The problem with the term "change management" is that no one really desires to change or plans to change. We desire and plan to progress. The program is based on Dean's The Progress Challenge: Working and Winning in a World of Change.

Stop, BOP and Roll – Finding PROGRESS in Change
The ailing economy and the tough business climate (not to mention the real climate) make it easy to understand why so many people have trouble finding ways to get and stay moving toward progress. Yet, opportunities for progress still exist, even in the most challenging of times.

Diving For Referral Pearls – Cultivating Quality Referrals
Cultivating Quality Referrals is VITAL for sales in today's tough economic times. In this motivational, thought provoking and highly entertaining program, Dean digs deep into the three keys to Consistently Cultivating Quality Referrals.

Time Management Training is Really SELF Management Training
Learning and consistently utilizing effective time management strategies turns a perishable resource into a source of productivity and profits. Dean's Always Time for Progress time management training program reveals hindering habits and supplies a detailed framework for developing a progress based personal action plan.

Crafting Big PHAT Goals
The Goal Setting Training Program for Progress Agents.
Big PHAT Goals is designed for organizations that view their payroll as an investment rather than an expense and are committed to retaining and developing committed self motivated team players. The Big PHAT Goals Program is designed to Align Personal Goals with Organizational Objectives.
Too Stressed to Progress?
Workplace stress is rarely part of anyone's job description, but it is unfortunately part of most jobs. Effects of stress reduce productivity and damage an organization's bottom line. Participants in the From Stress to Progress! Stress management training program gain important insights into how stress in one area impacts other areas, how coping resources in one area impacts other areas, how coping resources in one area can be used to decrease stress in another.
Progress Takes Persistence
The hardest aspect of goal achievement is not in crafting a goal or even in knowing how to achieve it. The real challenge is staying connected to the passion and understanding of WHY.


Why Book Dean Lindsay?


If you need an authority on harnessing human potential, improving productivity, and creating authentic business growth, Dean is it.
He shares the important connection between sales, motivation, solid customer care and leadership with his dynamic communication style.
Dean Lindsay, Chief Marketing Officer for Synclab Media and Host of C-Suite Network TV's The DEAN's List, is hailed as a 'Outstanding Thought Leader on Building Priceless Business Relationships' by Sales and Marketing Executives International as well as an 'Outstanding Speaker' by the International Association of Speakers Bureaus.

His books, How to Achieve Big PHAT Goals, THE PROGRESS CHALLENGE: Working & Winning in a World of Change, and CRACKING THE NETWORKING CODE: 4 Steps to Priceless Business Relationships have sold over 100,000 copies worldwide and have been translated into Chinese, Hindi, Polish, Korean, Spanish and Greek.

Dean's thoughts on authentic business development by building and strengthening PROGRESS-based Work and Team Cultures have been endorsed by a who's who of international business thought leaders including Ken Blanchard (author of THE ONE MINUTE MANAGER, Bryan Tracy, author of THE PSYCHOLOGY OF SELLING and the legendary Father of GUERRILLA MARKETING, Jay Conrad Levinson. Mr. Levinson thought so much of Dean's thoughts on building priceless business relationships, that he wrote the foreword to CRACKING THE NETWORKING CODE.

Dean has been a featured contributor to CEOWorld Magazine, The Smart Manager (India), Sales and Service Excellence, Training Magazine Europe, Executive Travel, LabX Media, Networking Times and the American Management Association's Moving Ahead magazine as well as numerous podcasts and the audio magazine Selling Power Live. His business views have also been featured on the Voice of America radio as well as the Dallas Morning News andMonster.com.

Dean is also a cum laude graduate of the University of North Texas and has served as Guest Lecturer to UCLA and University of Dallas MBA programs as well as the International Call Management Institute. He has had the privilege of sharing his sales and marketing insights from the big stage in several countries including Spain, Turkey, Poland, Ecuador, Mexico, Switzerland, Venezuela, Sweden and the islands of Aruba and Jamaica.

Dean' clients include: American Airlines, Texas A&M, New York Life, Precision Tune Auto Care, Pacific Life & Annuity, Haberfeld Associates, Marriott, Heinz, Hilton, American Express, Western Union, Verizon, Amway, Nestle, Aramark Canada, Gold's Gym, Bell Partners, EKOS (Ecuador), ConocoPhillips, Hagger Clothing, the United States Peace Corp and the United States Patent and Trademark Office.