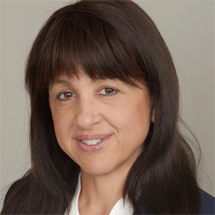 Denise Pirrotti Hummel
Founder & Chief Innovation Officer of Lead Inclusively
Traveling From
California
X
Program Descriptions
Igniting Inclusive Leadership
is about a fundamental transformation that could forever change the ability of corporations to recruit, retain and advance diverse talent in their organizations. She begins by speaking about why she became dedicated to helping companies move from diversity (the demographic mix of a diverse workforce) to inclusion (how those people feel when they get there). Her experience, as a single mother, growing her own business, which she ultimately sold to Ernst & Young, has helped to define her experience of inclusion. Her experience as an attorney who tried and won the first class action under the Americans With Disabilities Act helped to define her mission in life – to move away from the litigiousness of "us versus them" and towards a paradigm that together we can create a work environment where inclusion is the ignitor of business performance. This Ted Talk has inspired thousands of women and men to collaborate to balance workforce power.

Champions of Change
Champions of Change is a keynote created for men and women to partner together and drive balance in workplace power. It's for organizations who want gender parity not only because it's the right thing to do, but because it's an economic imperative to organizational success. It's for all the wonderful male executives out there who believe in women and want to see them succeed in the workplace. It's for the men with promising daughters and powerful wives, girlfriends, colleagues and friends and it's for the men who simply believe that all people should be permitted to reach their potential without unnecessary impediment, but maybe don't know how to help. It's for all the wonderful female executives out there who know they need to have the courage to ask men for support, but don't know how.

Cross-Cultural Effectiveness
Global markets represent the greatest opportunity for American companies today. Involving these markets in company initiatives to establish critical buy-in and improve engagement is no longer optional, since failure to do so often means an inability to attain the business results sought. Denise Pirrotti Hummel is one of the world's premier experts on understanding the cross-cultural factors that impact global strategies and how companies can leverage this knowledge for successful programs. This keynote is uniquely positioned to help clients foster strategy, communication, and teamwork excellence, reducing cost, increasing quality, and eliminating many of the risks associated with global initiatives and challenges with fostering cross-border relationships. Studies and our client-project experience shows efficiency gains of approximately 30% when implementing a targeted culture solution.
Denise Pirrotti Hummel, J.D. is the Founder and Chief Innovation Officer of Lead Inclusively, Inc., an organizational development firm that helps clients to achieve the benefits of inclusion through D&I Assessments, E-Learning and an inclusion behavior change app. Her focus is on increasing the ability to recruit, retain and advance key diverse talent and to then obtain the employee engagement, productivity and innovation that results from helping organizations to move towards an inclusive culture. She is a Ted Talk finalist and a member of Marshall Goldsmith's legacy 100 coaches. She is also a Board Member of the Healthcare Businesswomen's Association (HBA) and the Chair of Athena's Life Sciences Committee. She is a serial entrepreneur and CEO having sold her cross-cultural business, Universal Consensus, LLC, to Ernst & Young, LLP, where she became a Principal. Prior to that she has practiced employment law and international M&A as an attorney. In addition to performing some of the largest people integrations in the country, Ms. Hummel tried and won the first class-action under the Americans With Disabilities Act in the 90s. She is a staunch advocate and coach of executive women, helping them to navigate the nuances of standing out and fitting in at the senior levels of organizations and boards. Denise was recently endorsed by Dr. Marshall Goldsmith as the World's Leader in Diversity and Inclusion.