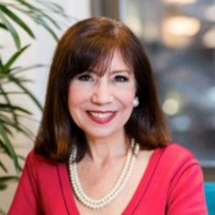 Diane DiResta
Executive Speaking. Be Influential. Be Irresistible. Be a Knockout.
X
Program Descriptions
Knockout Meetings: From Time Wasting Black-Hole to Productivity Machine

Most people define meetings as the black hole of productivity. These disorganized, poorly facilitated, late-starting, time-wasters (that everyone is invited to) are the bane of business existence. But it doesn't have to be that way. Meetings can be highly-productive, barrier-breaking, well-organized machines that drive results… as long as you have an expert to help you facilitate them like a pro. For over 20 years Diane DiResta transformed executives of Fortune 500 companies to project presence on the platform and get the results they want.

Plan, conduct, and manage effective meetings face-to-face or virtually.

You'll discover how to:


Plan and coordinate the logistics of a meeting
Create an effective outline and agenda
Select the right speakers for an event
Introduce speakers and politely cut them off
Deliver feedback
Facilitate group discussions
Keep meetings on track
Handle Q & A
Manage difficult participants
Track and evaluate meetings for maximum success

The Influential Leader: Transform High Stakes Communication into Massive ROI

"You're too much in the weeds. You're not getting to the point. Give us the 30,000 ft view." These are the words that many leaders hear five minutes before that next high-stakes presentation.

It's your job to influence, but your message isn't getting across. You need to look and sound like a leader. And for over 20 years Diane DiResta transformed executives of Fortune 500 companies to project presence on the platform and get the results they want.

It's time to get from behind the podium and own the platform. When your words and actions work in concert with your message, you'll motivate and influence your stakeholders. Bring the type of gravitas that inspires confidence in your leadership. In this program you will discover how to:


To create presence on the platform without saying a word
Gain buy-in for your ideas and projects.
Speak with confidence, clarity, and conviction.

Female Powerhouses: How Dynamic Women Leverage Kickbutt Confidence to Reap Bigger Rewards

"I've earned the right to be here and I'm a valuable contributor." These are the words dynamic women use to amp up their confidence to scale the corporate jungle gym.

What if you were able to motivate yourself the same way?

You would have the confidence to take the risks that lead to bigger rewards. You'd be taken seriously. Your ideas would be heard; recognized; and you would be on the path to advancement.

For over 20 years Diane DiResta transformed Fortune 500 executives into highly influential leaders.

In this fun and interactive program, you'll unleash the powerhouse that you are when you discover how to:


Speak the language of success and weed out wimpy words
Uproot the negative messages that lead to Imposter Syndrome
Conquer the number one fear that robs you of visibility
Convey confidence without saying a word
Breakthrough communication barriers and convey executive presence
Why Book Diane DeResta?
Powerful ideas delivered with Humor


Punch & Pizzazz delivered with Elegance


Engaging & Interactive with Actionable Results
Diane DiResta, author of KNOCKOUT PRESENTATIONS: HOW TO DELIVER YOUR MESSAGE WITH POWER, PUNCH AND PIZZAZZ, is more than just an author who likes to speak. Rather, she is really a speaker … who just happens to have written a book. As one of the leading presentation trainers in the country, Diane knows exactly what it takes to give a knockout presentation --and she is committed to helping others deliver them, as well. With more than 15 years of experience in providing public speaking training to Fortune 500 company executives, celebrities and sports figures nationwide, Diane has built a solid expertise in helping a wide variety of high-level professionals improve their communication skills and become more effective public speakers. And as a knockout presenter herself, Diane has become a sought-after speaker, facilitator and coach for some of today's largest businesses and organizations.

Diane is president of DiResta Communications Inc.,a New York-based company that offers programs in presentation skills, facilitation, listening, train-the-trainer, interpersonal communication, personal coaching, mediation, team building, voicemail, and media training. Her dynamic and inspiring training techniques have helped thousands of professionals in companies across the board improve their communication skills and advance their careers.

Whether providing spokesperson training to a CEO, or training a sales representative on emerging telephone/voicemail communications strategies, Diane provides people with seasoned advice -- and practical solutions - to give them the tools they need to become more effective communicators. Her clients include leading businesses throughout various industries, and include companies such as AT&T, Chase Manhattan Bank, CNNfn, Grey Advertising, IBM, Intuit, Merck Medco, Tiffany & Company, Meeting Professionals International, the NY Society of Association Executives, as well as media training programs she has conducted for the NBA/WNBA.

Diane has a unique combination of "New York shark expertise with a down home style." Her talks are high content, filled with practical tips that are immediately useable.

Diane really cares. She will spend time getting to know your organization to tailor her programs to your specific needs. Diane has an ability to see the uniqueness of each individual and to make them feel special. She is able to inspire a high trust connection which enables her audience to take risks.

Diane is multi-faceted. While some speakers do one thing well, Diane's eclectic style enables her to excel whether coaching an individual, speaking to hundreds from a stage, facilitating a meeting, conducting a seminar, media training athletes, or giving an online presentation. She does it all. She is equally comfortable working across levels from secretaries to executives and has worked with a broad range of industries including accountants, athletes, lawyers, engineers, entertainment celebrities, exterminators, financial analysts, pharmacists, physicians, realtors, retailers, sales professionals, stockbrokers, and underwriters.

Diane connects with international and multi-cultural audiences. Her love of foreign cultures stems from childhood when she lived for four years on military bases in Germany. She has spoken on three continents and speaks to people from diverse cultures. She and her associate pioneered communication courses for Non-native populations. These courses help level the playing field for foreign-born professionals who work in U.S. corporations. Knowing that most U.S. audiences are multi-cultural, she weaves cultural communication into her presentation skills program.

Diane believes that the learning is in the doing. So even in large audiences, she pulls volunteers on stage to demonstrate her techniques.

Diane speaks your language. She has a unique ability to cut through the details and give you the bottom line message. Her communication style is clear and concise. Diane is able to translate her concepts and techniques into language your company understands.

Diane gets results. Diane is not a talking head. She is an excellent role model, coach and a master of feedback. Like her book and seminars, Diane doesn't talk about it, she shows you how to do it.

Diane has diverse experience. Prior to forming her own company, Diane was assistant vice president at Drexel Burnham Lambert, where she recruited and trained institutional sales and trading associates. As a training specialist at Salomon Brothers, she designed and delivered management and communication courses, and before that she was a senior associate for The Executive Technique, a Madison Avenue communications firm, where she trained managers and executives of Fortune 500 companies in presentation skills.

In addition to helping some of today's top business people master the art of presentations, Diane also is reaching students to help them become more effective communicators. She presently teaches speech courses for New York University and American Management Association. At New York University, she was also responsible for pioneering the first listening course for their Continuing Education department.

Diane is a recognized expert in her field. Her expertise and powerful presentation style have made her a much-requested speaker at many national and international organizations. In 1993, she was invited by the Alliance for American and Russian Women, to speak to Russian women in Moscow and St. Petersburg about "Selling to the American Market." In 1996, she was the featured speaker for the Public Housing Authority Directors Association conference. Using distance learning technology, the conference was broadcast to over 500 directors and several satellite offices. She has been published in numerous trade publications and consumer magazines such as The LA Times, Entrepreneur, Business Start-Ups, Business Week Online, Cosmopolitan, Executive Female, Sales and Marketing, and Newsday. Her voicemail class was featured on CNN.

Diane holds a Master of Science degree from Columbia University and is a licensed and certified Speech Pathologist. She worked for several years in the New York City public schools as a Speech Pathologist. Diane continues to upgrade her skills and is presently pursuing certification at CoachU, a training program for coaches.

Diane is past president of the New York Tri-State chapter of National Speakers Association, where she was awarded the Golden Mike for professional speaking excellence and service and was voted Member of the Year. She serves on the board of NYCID, a community dispute resolution center in Staten Island, NY where she also volunteers as a mediator. Diane speaks at high schools to coach students in the much neglected skill of public speaking. She is listed in the World Who's Who of Women.