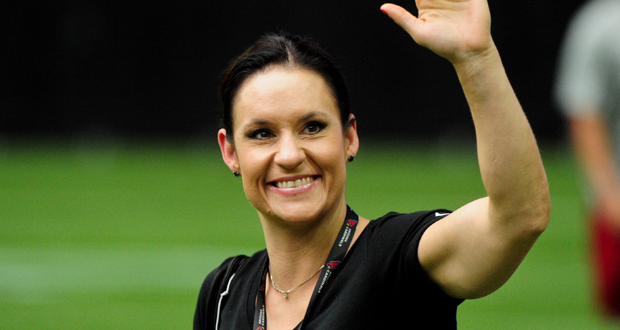 Dr. Jen Welter
First Female NFL Coach, Sport Psych, Gold Medalist
X
Program Descriptions
Authentic Leadership
Jen Welter changed the game when she became the first female to coach an NFL team. Not only did she successfully help lead the Arizona Cardinals to win the 2015 NFC West division title, she also earned their respect and trust by forming a strong bond and believing in them—with many of those she guided on the field years ago still calling her "coach" to this day. Illustrating the importance of devotion to one's team and being a team player, Welter outlines for audiences how authenticity is critical to effective leadership with her on- and off-the-field strategies for anyone who wants to coach their own team to the end zone.
Why Book Dr. Jen Welter
Dr. Jen Welter is the first female to serve as an NFL coach in the male-dominated sport of football.
She uses her story of goal setting and determination to inspires others to recognize their own potential and to break through their own life barriers
Her presentation on the value of assembling teams with diverse perspectives and talents to strengthen the organization's competitive advantage.
Dr. Jen Welter is the first female to coach in the NFL. She served as an intern linebackers coach for the Arizona Cardinals. Welter's time at the Cardinals has been defined by the bond she has fostered with the players. But this is not the first time Welter's was the first to do something. In February 2015 she became the first woman to coach in a men's professional football league, when she served as linebacker and special teams coach for the Indoor Football League's Texas Revolution. Prior to that, in January 2014 Welter became the first woman to play running back in a men's professional football season, when she signed with the Revolution.
Welter holds a doctorate degree in Psychology and Master's in Sport Psychology. She has 18 years of experience in fitness, professional athlete and has provided expert advice on a wide range of topics in fitness and sports. Her background provides her with a unique insight—both as a player and academic—into the power of sport.
Her on-field experience dates back to her time on the rugby pitch at Boston College. She is a veteran of several women's professional and semi-professional football teams and a member of the 2010 and 2013 gold medal-winning USA Team at the International Federation of American Football's (IFAF) Women's World Championship.
Ultimately, Welter is a team player. Devoted to those she plays with and coaches. Those who played for her years ago still call her Coach to this day. Welter has spoken to a variety of audiences about her experiences, the power of sport and the mental acuity it takes to achieve what other may say is impossible.
Welter graduated with a B.S. from Boston College, followed by a Master's in Sport Psychology and PhD in Psychology from Capella University. The 37 year-old Welter is a native of Vero Beach, Florida.