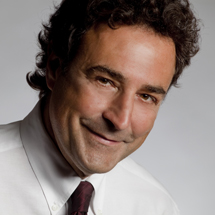 Dr. John La Puma
Chef MD®, Celebrity Chef & Culinary Medicine Practitioner
Traveling From
California
X
Program Descriptions
Farm Not Pharma: Eat Yourself Well
How to eat yourself well with whole, unprocessed foods, avoid drugs and their side effects, and start your own medicinal garden. Become literate about food and wine, and learn to live well.

What is Culinary Medicine? And How Can You Get It?
Pioneered by Dr. La Puma, and now adopted by a number of medical schools nationwide, culinary medicine is a very old idea--you are what you eat, and food is medicine. Dr. La Puma shows how to make it delicious, sustainable and affordable; features foods that work withing minutes in the body, and describes seven natural ways to lower blood pressure, cholesterol and triglycerides; and how to make your immune system function well with what you eat and how you live at any age.

Don't Ask Your Doctor About Low T
Based on Dr. La Puma's game-changing New York Times OpEd by the same name, this program explores how pharma has captured the American psyche in direct to consumer ads, and why men and women have let them get away with it. Dr. La Puma shows scientific data to show how men (and the women who love them) can improve fertility, raise testosterone and look and feel better naturally, without drugs or their side effects and cost.

Live Cooking Demo
Dr. La Puma can cook specific recipes from his books, from Dr. Oz' YOU the Owner's Manual (for which Dr. La Puma created the recipes), and from the ChefMD TV show for audience members, and help to customize your conference menu for optimal wellness and even more happiness, working with the chef and conference manager.

Make Yourself Younger With What You Eat: A RealAge Diet for Your Body Now
Dr. La Puma's RealAge Diet, written with Dr. Michael Roizen of the Cleveland Clinic, has been translated into 12 languages and is an international best-seller. Here Dr. La Puma gives you the top 12 ways to make yourself younger with what you eat, using your RealAge versus your Calendar Age (and why you should care).
John La Puma MD is the leading physician voice for healthy eating as part of health, and an expert in wellness and stress management. Both a board-certified practicing internist and professionally trained chef, he is a New York Times best- selling author twice, on healthy aging and diet. Host of "ChefMD™" on Lifetime TV and the 2011 PBS Special "Eat and Cook Healthy", he is the first physician to teach a cooking and nutrition course in a US medical school (SUNY-Syracuse), with YOU Doc Michael Roizen. His mission is to empower people to transform their lives with how they live, often reversing the underlying causes of illness. Dr La Puma specializes in weight control in Santa Barbara, California and works with Chef Clinic® clients and partners worldwide.
Books