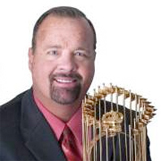 Ed Hearn
Former New York Mets Catcher
X
Program Descriptions
Conquering Life's Curves
This program is a dynamic mix of entertainment, insight, and inspiration. Ed's personal story truly does touch all the bases - from an inside look at life in the Major Leagues to the battle of overcoming life threatening illnesses. This is a message from a man who has both celebrated at the top and battled some of life's nasty curves. No matter what the audience, this presentation is always a grand slam!

The Winning Edge
The same ingredients necessary to build a World Championship baseball team are vital in the intensely competitive world of business. Today's corporate leaders are recognizing the value of having employees who excel not only at work, but in their community and at home as well. As we move toward a new millennium, this program is a blueprint for the growing emphasis on success through a balanced, yet highly productive quality of life. It will inspire your group and leave them with a positive, successful approach toward work, relationships, and life!

Touching All The Bases (Youth Program)
We may face no bigger challenge today than that of steering our children through a maze of modern day temptations. As parents, we are frustrated by how often our children ignore our guidance yet seem to be so influenced by today's "role models" - the athletes, musicians, and entertainers. Ed realizes this and uses the platform he has been given as a professional athlete to share the messages all parents wish their children would listen and respond to. Don't miss this opportunity to expose your young people to one of life's true champions.
In 1986, Ed Hearn fulfilled his childhood dream as a member of the World Champion New York Mets. The following year with the Kansas City Royals, he was set to make those big "million dollar bank deposits" today's professional athletes are accustomed to, when suddenly, a serious shoulder injury brought a premature end to a very promising and brilliant career.


Today, after three life-saving kidney transplants, a successful bout with cancer, the aid of a breathing machine each night, a costly IV treatment once a month, and up to 50 pills per day, Ed has come back to live a life that is truly an inspiration.

While battling these very challenging health issues the past twelve years, Ed Hearn has become one of this nation's most highly sought after motivational speakers. Yes, his courage, faith and determination speak volumes as we face life's challenges, but what makes him so uniquely special is his genuine desire to empower and uplift those around him. His inspiring, real life message leaves audiences remembering him not so much as an athlete, but more as a man who has had a lasting impact on their lives.

Three years ago, Ed was awarded the prestigious Certified Speaking Profession (CSP) designation from the National Speakers Association. He is the first and only professional athlete from our country's major league sports to receive this designation (less than 8% of speakers throughout the world have received this distinguished honor).

As the author of Conquering Life's Curves – Baseball, Battles & Beyond, Ed has appeared on numerous national television programs including The Oprah Winfrey Show, The 700 Club and MSNBC. He is founder of The Bottom of the Ninth Foundation, a Kansas non-for-profit corporation dedicated to the mission of rebuilding the spirit and character of this nation.

Ed, his wife, Trish, and their nine-year-old son, Cody, reside in Lenexa, Kansas. He is very active in various community activities and spends countless hours of his time with the youth of Kansas City. In his spare time, Ed enjoys hunting, fishing, and golf.