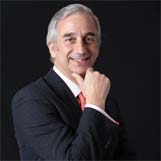 Eduardo Braun
Expert on Leadership & TV Moderator
X
Program Descriptions
"It's the Culture, Stupid!"
Why creating and sustaining the appropriate Organizational Culture is the ultimate Competitive Advantage

Leadership: How To Become an Effective Leader: Secrets from the World's Greatest Leaders
What are the World's Greatest Leaders secrets and how can you benefit from them to become a great Leader yourself?
Eduardo brings to life the thoughts, on-stage interviews, and behind the scenes secrets of the world most renowned leaders: Bill Clinton, Francis Ford Coppola, Gary Hamel, Jack Welch, Rudy Giuliani, Jim Collins, Dave Ulrich, Tony Blair, Colin Powell and many others; and turns those lessons into actionable recommendations.

Family Business
How to facilitate successful successions and happier family members
The most singular characteristic of a Family Business is that everything is mixed up: Ownership, governance, management…. and the Family!

Innovation
New perspectives to reinvent you company: The Business, the Products, and its Management.


He has travelled around the world listening and interviewing the world's greatest political and business leaders.

Director of the HSM Group for over 12 years, the first global Multimedia Management Group, Eduardo has interviewed many history-making personalities like William Jeffersonl Clinton, Rudy Giuliani, Tony Blair, Mikhail Gorbachev, Felipe Gonzalez, Ingrid Betancourt, Alvaro Uribe or the Nobel Prize winners Muhammad Yunus, Joseph Stiglitz and Paul Krugman. He also learned management listening to Peter Drucker, Michael Porter, Philip Kotler, and Tom Peters. Business leaders from the most successful companies like General Electric (Jack Welch), Disney (Michael Eisner), Southwest Airlines (Herb Kelleher), and Lucas Films (George Lucas) have shared their experiences. They have all shared with him their secrets to success.

Mr. Braun selects conversations from his TV interviews –that reach over 25 countries and 14 Million homes—and others from back stage to share their lessons to business executives around the world.

Eduardo Braun is an Industrial Engineer from the University of Buenos Aires and has an MBA from the Wharton School (University of Pennsylvania). He has studied and worked in the US and Europe for almost a decade, and his 30 years of experience as an executive and entrepreneur, have enabled him to have his own views when interviewing the business leaders.
Books

People First Leadership