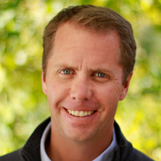 Eric Alexander
World-Class Adventurer
X
Program Descriptions
Trust Eric knows that to succeed as a team each individual on that team must be a person who is trustworthy and must also demonstrate the ability to trust those around them.

Courage Dare to risk it all when the "experts" say the risk is too great. Eric speaks of moving forward in spite of our fears, stepping out in faith and courage to prove, as he says, "that we are the experts on ourselves."

Teamwork Taking on a monumental task, like guiding a blind man to the summit of Mt. Everest, is not something that a person can do alone. Eric details how this extraordinary achievement was made possible by team-members putting aside their individual differences for the greater good of the team.

Integrity In the high mountains it is critical that people do as they say they will do. Lives depend on following through on promises with action. To survive here, and be successful, a team must be comprised of individuals willing to stand by their word. This lesson carries over into many aspects of our personal and professional lives and is quite a recipe for growth and success.

Adventure Beyond Limits Eric shares his secrets for success: Prepare for the ascent; Ascend – dare to dream as dreams are still worth striving for; Triumph – miracles do happen so never give up, never listen to your critics, remember that champions adjust and that there are no limits to what we can achieve.
Eric Alexander, skier, climber, and mountaineer is achieving his goals while playing an instrumental role in helping others to achieve their own. On May 25th 2001 Eric defied the odds and scaled Mt. Everest guiding his blind- friend Erik Weihenmayer to its lofty 29,035′ summit. In 2002 the pair traveled to Russia and climbed Mt. Elbrus at 18,500 ft, and again found success on Mt. Kosciusko, Australia –– two more of the seven summits (the highest points on each of the seven continents) notably the pair skied from the top of each of these latter two – making this the first-ever blind ski descents. Eric shares this inspirational story with audiences all over the country and when he is not traveling he teaches disabled skiers in Vail, Colorado and directs Adventures Beyond Limits, an organization that educates and encourages youth with disabilities in the outdoors.

Eric grew up in the Colorado Rockies and started climbing in his teens. He was a member of the University of Denver ski team, which led him to pursue work as a Ski Patrolman in Vail and in the French Alps, as well as instructing at Beaver Creek Resort. Eric has successfully climbed the highest point on six of the seven continents and led expeditions throughout Europe, North America, South America, the Himalaya and other mountainous regions of the globe.

Climbing has not always been without its trials. Eric reminds us of our humanity and demonstrates the courage it takes to succeed in climbing to the "top of the world". Surviving a 150′ fall in the Himalayas on Mt. Amadablam in 2000 was just the beginning. Eric developed pulmonary edema and it became clear that he would need to be airlifted to safety. For eight months he struggled with pneumonia and was unable to train for Everest. Gaining inspiration from his team and his faith, Eric dared to dream once again and fought back to play an instrumental role in this historic ascent Today, Eric continues to climb and look for new challenges both personally and in the outdoors while challenging people to overcome the "Everests" in their own lives redefining the limits of what we can achieve.
Books

The Summit