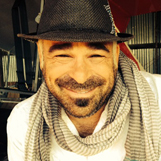 Eric Saperston
Filmmaker, Author and Storyteller
X
Program Descriptions
"What It Takes To Be Extraordinary"
Eric Saperston's keynote address wows audiences with refreshing wisdom, humor and inspiration he has acquired cold-calling the most powerful people in the world and taking them out for coffee. His journey explores in depth the common traits, motivating factors and guiding principles which enable everyday people to produce extraordinary.

"Live In Wonder" Be yourself. Everyone else is taken.
People who get up in the morning excited and go to bed fulfilled are living in wonder. They say "Yes" to great mystery of life unfolding. They ask for help. They are resourceful. They are a force of nature. People who live in wonder are possible-tarians and they embody the positive change they wish to see in the world. We believe if more people are living in wonder, in the awe, the rapture and the astonishment of it all, that coming from those places will open dialogues, create community and build global citizenship.

"To Know The Road Ahead, Ask Those Coming Back" Building A Bridge Between The Ordinary, The Extraordinary And The Legendary.
This highly acclaimed keynote address is a deeply inspiring and optimistically uplifting pilgrimage into the minds, hearts and actions of the most powerful and accomplished people in the world. Drawing upon his interviews with over two hundred of the most successful thinkers, leaders and doers on the planet, Eric Saperston takes us on an engaging adventure to explore and uncover the common truths, motivating factors and guiding principles which separate those who achieve greatness in this world from those who do not.

"The Hero's Journey" An Open Life Is Yours If You Have The Courage.
They say a journey of a thousand miles always begins with the first step... The Call to Adventure. In this dynamic and engaging keynote conversation, Eric Saperston will explore in an entertaining and uplifting fashion the extraordinary Hero's Journey to Greatness. With insightful stories from his adventure combined with the lessons he's learned from world leaders, Eric will inspire audiences with refreshing tales from his life's journey. He'll talk about the call to adventure, the refusal of the call, crossing over the first threshold, meeting the mentor, over- coming tests, trials and obstacles, the decent into the inner most cave, slaying the dragon and the profound discovery of the elixir. Themes discussed: Courage, Resourcefulness, Creativity, Problem Solving, Character, Integrity and Greatness. Please join Eric Saperston in this crowd-pleasing, standing-ovation keynote address which will leave your audiences with an extra hop in their step and inspiration in their heart.

"The Journey: Unplugged"
In this critically acclaimed performance, award-winning film director Eric Saperston teams up with Atlantic Recording Artist and multiplatinum rockstar, Edwin McCain, to rock and inspire audiences around the globe. Most conference attendees have seen amazing musicians perform and incredible speakers give great talks: now, you will have the opportunity to dazzle, engage and inspire your next leadership conference by combining the best of music and storytelling. This unforgettable performance masterfully interweaves Eric's captivating and insightful messages learned from the most successful leaders in the world with Edwin McCain's chart-topping hits such as "I'll Be" "What Matters" and "Just Do Your Thing". This show is special. Audiences at KPMG, General Mills, Meeting Planners International and many others have seen their attendees leap to their feet in applause. This show has a good beat and you can dance to it!
Why Book Eric Saperston?


If you're looking for an infectious, outside the box, captivating keynote address, chock-full of leadership lessons which propel your organization to achieve excellence, then Eric Saperston is the person you want.


With over 20 years of first hand experience and interviewing CEOs, Presidents, and leaders in industry and success, Eric Saperston has a breadth of stories and wisdom he can share to custom meet your event's topics and needs. Eric is one of the most in-demand and unconventional speakers in the world. He travels worldwide, teaching associations, corporations, and professions how to maximize human potential by cultivating leaders who inspire wonder in their employees, partners, and customers.
Eric has spoken for Harvard University, Stanford University, at Nike, Coke, General Mills, Hilton Hotels, Trader Joe's, ADP, United Way, the Million Dollar Round Table, TEDx, and the list goes on.... He has been features as a guest on The Today Show, CNN, CNN Headline News, and PBS, and written about in the New York Times, Washington Post, Wall Street Journal, Atlanta Constitution, Spin Magazine, Fast Company and National Geographic.
Eric's energetic and charismatic storytelling delivery and his own tale of his incredible journey and the wisdom he was bequeathed from the most influential and successful minds of this era create a narrative that is sure to inspire wonder and remain in the minds and hearts of your employees long past the end of the session.
When Leaders Inspire Wonder:
Productivity increases
Innovation ignites
Change is met with courage
Stong teams are built
Adversities are ovrecome
Eric shows us how asking powerful questions can drive innovation, build strategic partnerships, and open doors to the most successful thought leaders in the world. He encourages people and organizations to maximize their potential by replacing fear with curiosity and to thrive during times of change and adversity.
Eric has spent the last 20 years calling up the most influential people in the world and taking them out for coffee to discover the lessons they've learned, the struggles they've endured, and what advise and counsel they'd give others for a successful road ahead. This makes Eric an incredible storyteller chalked full of practical leadership lessons learned from the wisest in the world, combined with his humorous and engaging tales from his own adventure to success, will leave your attendees undeniably more successful, uplifted and inspired to produce extraordinary results both in business and at home!
Eric's speech is based around his incredible journey (which became an award winning film) where a dare to make a trip more meaningful by a mentor turned into a four year adventure, in which he gained three accomplices and drove cross country making their trip work through sheer resourcefulness and tenacity, to connect and gain access to over 200 of the most successful and influential minds of our era to learn from the source what it takes to reach the pinnacle of success, what was learned from their failures, and what advise they would share to better prepare those for the road ahead. Within this speech, Eric broaches the topics of being resourceful, to "do what you can, with what you have, where you are", being tenacious, going after your goals, and not taking "no" personally, to speak your possibility into existence, to create goals to have something to drive towards, the importance of being humble, seeking out the wisdom of those who have already achieved, finding mentors, the importance and success that goes with asking others for help, especially in new territory and areas beyond your own expertise, the importance of dynamic communication, speaking and being able to listen, collaboration, and to do excellently whatever it is you commit to doing.
Eric utilizes storytelling, video, and audience engagement to captivate and create an uplifting experiential take-away. Eric's speeches range from 60-75 minutes. Eric will cater in stories of interviews and life and business lessons that are pertinent to your event's subject matter which can be honed in more specifically after a conference call, where Eric can interview you and learn more about your organization's needs, expectations, other speakers subject matter, the weekend's activities, topics, and events so he can tailor make a spectacular speech that specifically meets and exceeds your group's expectations.
Books

The Journey

Live In Wonder