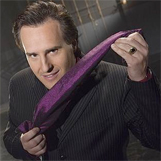 Gerry McCambridge
The Mentalist
X
Program Descriptions
Fascinating, entertaining mentalism shows
In his performances, Gerry McCambridge uses his mentalist abilities purely for entertainment purposes. His goal is to entertain people and get them involved in the performance without using any fancy props, violent or sexually suggestive images—just intelligent, and thought-provoking material.
Why Book Gerry McCambridge?
Star of The Mentalist on NBC, Gerry is the real deal. He has had an innate talent for dissecting the way people tick, all from an early age.
Considered the world's premier mentalist, Gerry McCambridge is a favorite for corporate events and private celebrity A-list parties. Discovered by NBC's President, Jeff Zucker, Gerry made an impression as an undiscovered, incredible talent. Five years later, in May 2004 McCambridge starred in a primetime NBC special called "The Mentalist" where he showcased his uncanny, fascinating ability to tap into the minds of complete strangers.

Gerry McCambridge is a native New Yorker, born on Halloween. Gerry was not your typical young and impressionable child. He was very interested in the workings of the mind. He targeted how those around him communicated with each other and towards him. He not only listened to what people were saying but observed their gestures, posture, eye movement, and tone of their voices. He eventually figured way to tap into people's minds and reveal their most personal thoughts.

Gerry listened, watched, observed and strengthened his intuition as he grew. People in Gerry's life became so intrigued with his unusual but fascinating talent that at the age of 10, he started giving fun demonstrations showcasing some of his abilities. At first, he just did little things for friends at parties, and then over the years, it kept growing. In his twenties, he worked at a psychiatric hospital where he questioned and discussed the functioning of the human brain with doctors. This gave him partial understanding of his craft and aided in fine-tuning his abilities. Eventually he left the hospital to concentrate full-time on his talent.

The people Gerry performs for, their level of cooperation and willingness, plays a significant role in McCambridge's success. He has also studied Memory Techniques, Body Language, Psychology, Hypnosis, Linguistics, Statistics, Law of Averages, Non-Verbal Communication, NLP, ESP, Acting, Theater, Magic, and Stand Up Comedy all to aid his performing skills.