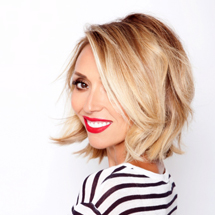 Giuliana Rancic
Entertainment Journalist, Fashion Expert & Television Personality
Giuliana Rancic is an entertainment journalist, fashion and beauty expert and television personality with 3 million devoted followers on Twitter. She is the anchor of E! News, co-star of E!'s hugely popular Fashion Police team and has been on the red carpet for every mega-event in the entertainment industry (Oscars, Grammy Awards, Golden Globes) interview-ing the stars and getting breaking Hollywood scoop as well as fashion tips, diet and fitness advice, travel tips and all things pop culture.

Giuliana is watched by millions each week on the Style Network on her hit reality show, Giuliana & Bill, which recently finished its sixth season— the highest rated season to date. Season seven is currently in production and set to premiere in June, 2013.

Giuliana and her husband, Bill Rancic, are hosting the new NBC dating series, Ready For Love, produced by Eva Longoria. The series is set to premiered April 2013.
Giuliana recently launched her own clothing line,
G by Giuliana Rancic, on HSN – the most successful clothing line debut on HSN in 2012.

In 2011, she launched FabFitFun, a daily newsletter focused on beauty, health and wellness.

In 2006, Rancic released her highly-praised debut book, Think Like A Guy: How to Get a Guy By Thinking Like One. It is a practical and funny hand-book of rules on landing the man of your dreams. She recently released her second book, I Do, Now What?: Secrets, Stories, and Advice from a Madly-in-Love Couple, published by Random House. Giuliana co-authored the book with her husband, Bill Rancic.

Rancic recently created Fab-U-Wish, a program to grant fashion, beauty and celebrity-themed wishes to women battling breast cancer. This program is just one aspect of her ongoing mission to help those going through hardships to find happiness and a positive outlook on life. Others include Bright Pink, Breast Cancer Research Foundation, Operation Smile, Dress For Success, Mercy Home for Boys and Girls in Chicago and the Children's Miracle Networks.

In 2002, Giuliana joined E! News as a correspondent and in 2005 became solo anchor and managing editor for the show, taking it from the lowest rated show on the network to number one…incredibly within one year.

Rancic is a force both on-camera and off but her remarkable success didn't come easily. She is a true result of "The American Dream " and an inspiration to people, both young and old.

She was born in Naples, Italy, in a modest neighborhood, and moved to the United States when she was a little girl. Her love affair with television journalism began before she could even speak English— her parents couldn't afford a tutor, so she learned the language by watching TV. She received a bachelors degree in journalism from the University of Maryland and a master degree in journalism from American University. While in attendance, Giuliana worked for a Capitol Hill news bureau covering a number of stories related to the Pentagon, Supreme Court, White House and State Department.

She lives in Los Angeles and Chicago with her husband, Bill and their son, Duke.