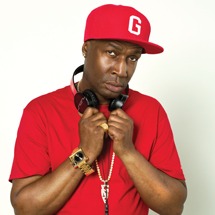 Grandmaster Flash
Hip-Hop DJ Pioneer, Rock and Roll Hall of Fame Inductee
X
Program Descriptions
A Conversation with Grandmaster Flash.
During the hip-hop's history, few names become as well known to music lovers across the world as that of Grandmaster Flash. His pioneering use of the turntables as a musical instrument, which helped elevate the status of the DJ to a masterful, artistic position, and assembling one of the earliest and greatest rap groups of all time. The hallmarks of Flash's career has extended from the Bronx in the mid-1970s to all over the world in the 21st century.
Why Book Grandmaster Flash?


The rock n' roll hall of fame recognized Flash with an honor no one else in hip-hop has received: Grandmaster Flash and the Furious Five became the first hip-hop group ever inducted into the Rock and Roll Hall of Fame in 2007 and Flash is the first DJ to ever receive that honor.
Grandmaster Flash shares his musical history and the art and science of creating his music. He also provides insightful and inspiring stories of his life story and the music business.
Emerging from the South Bronx in the early 1970s, Grandmaster Flash is inarguably one of Hip Hop's original innovators. In the earliest days of the genre, he manipulated music by placing his fingers on the vinyl, perfected beat looping, and discovered many of the most iconic beats still commonly sampled today. It's no surprise that The New York Times calls him Hip Hop's first virtuoso.

Today, he's the voice of an entire generation of 1970s hip hop pioneers. From his electric live shows, to his production role on Netflix' The Get Down, Grandmaster Flash is at once a historian, a storyteller, and a cultural force.