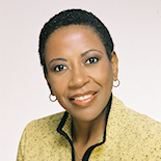 Hattie Hill
International Management Consultant, Businesswoman, Author
X
Program Descriptions
Personal Ethics in Corporate America
Building a Legacy of Leadership through Human Relations
Leadership in a Changing World
Smart Choices that Impact Profitability
Smart Women, Smart Choices
Building Productivity through Diversity
Building a Consultative Sales Team
Sales Development through Customer Loyalty
Life, Balance and Stress
Passion in Your Work
Why book Hattie Hill?

To be successful in today's diverse workplace and global marketplace, companies must be smart. That means developing leaders, embracing change and strengthening employees to work as a focused and engaged team.

Leadership and management are about good human relations. Hattie Hill Enterprises (HHE) is a globally renowned management and human relations consulting and training firm. For more than 20 years, HHE has helped management deal with change, thereby improving the company's bottom line through "Strategic Counsel in Leadership" and "Customer Service and Diversity in the Changing Workplace."
Hattie Hill has over twenty years experience as a businesswoman, professional speaker and international management consultant. Her expertise in global leadership, customer service and diversity has been shared with major organizations throughout the United States, Europe, South Africa, Australia, Latin America and the Caribbean. She is regularly quoted in local and national publications such as the Wall Street Journal, USA Today and the Dallas Morning News on matters concerning human relations in corporate America. Ms. Hill's most recent book is Smart Choices That Will Change Your Life.
Recently, Meeting News Magazine named Ms. Hill as one of the 2003 '25 Most Influential People in the Meeting's Industry.' Additionally, she has been honored by the Dallas Business Journal as one of the top 'Forty Under 40' business and community leaders in Dallas. Further, Dollars and Sense Magazine honored Ms. Hill as one of the 'Best and Brightest Businesswomen' and Successful Meetings Magazine named her one of their 'Hot 25 Speakers' in the United States. Working Women Magazine recognized Ms. Hill as a nominee for 'Entrepreneurial Excellence.' Ms. Hill's awards include 2000 Quest for Success 'Entrepreneur of the Year' and the Louise Raggio Pathfinder Award 2001.
As part of her commitment to leadership and her community, Ms. Hill serves on the following boards: YWCA of Metropolitan Dallas Advisory, Society of International Business Fellows, International Women's Forum-Dallas, Legacy Bank (Women's Financial), Federal Reserve Bank of Dallas, Meeting Professionals International Foundation, Goizueta Business School at Emory University and Wyndham International External Diversity Advisory.