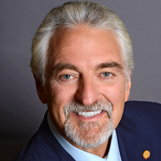 Ivan Misner, PhD
Networking Guru and Author: Masters of Networking
X
Program Descriptions
THE SECRET TO CREATING YOUR BEST LIFE
Do you ever feel overwhelmed or inefficient? Are you happy with the people surrounding you? Are you having trouble achieving some of your life goals? Have you ever had difficulty saying "no" to people? Is your life out of balance? If you said yes to any of these questions, don't worry – there's hope. You see, the quality of your life depends on the people in your life. This presentation will give you profound answers and techniques to apply in your life to create the life of your dreams.

NETWORKING UP
There's plenty of room at the top – it's the bottom that's really crowded! Have you ever met someone that made you realize that you were about to be networking above your weight class? They were heavy hitters, highly successful, and possibly well-known. Did it make you wonder – "how in the world can I make an impression with this person and create a long-term relationship?"
We've probably all been there before. In this presentation, Dr. Misner will share strategies, tips, interesting stories, and some "never try this" advice for making new, meaningful connections with successful people. This presentation will equip you to confidently move out of your comfort zone and move your business to even greater success.
Having run the world's largest business networking organization for the last 35 years, Dr Misner will show you how to "network up" successfully.

NETWORKING FOR SUCCESS
This is Dr. Misner's signature presentation. CNN has called him the "Father of Modern Networking and as the Founder of the world's largest networking organization he is uniquely qualified to give you tangible and effective techniques to help you build a powerful personal network. In this presentation he will share both the "mindset" needed to network effectively as well as incredibly effective "skillset" techniques to take your business to the next level through the use of relationship building and networking.
Why Book Ivan Misner?
CNN has named him "The Father of Modern Networking" and Forbes has named him one of "Top Networking Expert to Watch"
He has a track record of earning billions in increased revenue for the clients of his networking consulting firm BNI
He is an extremely prolific writer whose bestseller has made the New York Times list.
Dr. Ivan Misner is the Founder & Chief Visionary Officer of BNI, the world's largest business networking organization. Founded in 1985 the organization now has over 8,900 chapters throughout every populated continent of the world. Last year alone, BNI generated 11.2 million referrals resulting in $15.4 billion dollars' worth of business for its members.

Dr. Misner's Ph.D. is from the University of Southern California. He is a New York Times Bestselling author who has written 23 books, including Who's in Your Room? He is also a columnist for Entrepreneur.com and has been a university professor as well as a member of the Board of Trustees for the University of La Verne.

Called the "Father of Modern Networking" by CNN and one of the "Top Networking Experts" by Forbes, Dr. Misner is considered to be one of the world's leading experts on business networking and has been a keynote speaker for major corporations and associations throughout the world. He has been featured in the L.A. Times, Wall Street Journal, and New York Times, as well as numerous TV and radio shows including CNN, the BBC and The Today Show on NBC.

Among his many awards, he has been named "Humanitarian of the Year" by the Red Cross and was recently the recipient of the John C. Maxwell Leadership Award. He is also proud to be the Co-Founder of the BNI Charitable Foundation. He and his wife, Elisabeth, are now "empty nesters" with three adult children. Oh, and in his spare time! - he is also an amateur magician and a black belt in karate.
Books