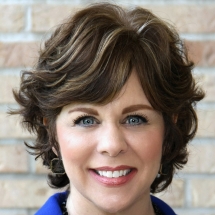 Jane Gentry
Entrepreneur. Women Business Owner. Relational Intelligence, Sales and Leadership Consultant
X
Program Descriptions
Sell the Way Your Customer Buys: Leveraging relationships through better connections
Magnifying the output of your sales teams performance by going wider and deeper with customers and prospects is a sales manager's dream, right? In this keynote, Jane will teach your sales team how to reduce the potential of misfiring with prospects and customers. She will show them how to quickly determine how your customers buy and how they can adapt their sales approach -- on phone calls, in sales presentations, or in proposals. Most sales people steer clear of difficult situations. But Jane will show your team how to redirect difficult relationships into more productive selling opportunities. Jane's approach doesn't compete with your existing systems and processes; rather, it easily integrates to improve results and prevent ineffective efforts.

Sell Your Ideas The Way People Listen: Tools to build better skills, gain more confidence and stop the frustration
No matter what role you have in an organization, you are selling your ideas, products or services. So every time you have the opportunity to advance your ideas, it's critical to get your audience to listen. You have to know what information is relevant and to your audience how to effectively present it. The Sell Your Ideas The Way People Listen keynote will help you, with a simple and easy approach to understanding your audience, whether it's one person or a thousand. This presentation will give you the tools to sell your idea from your audience's point of view, instead of your own point of view, or even your manager's point of view. There's no fluffy magical formula; just concrete tools to build up your skills, pump up your confidence and get better results for your effort.
Jane Gentry has had a successful 30-year career in Sales, Sales Management, Consulting, Executive Coaching and Keynoting. Since forming her practice in 1999, Jane has partnered with her client to improve sales/profitability, client retention, employee retention and leadership capabilities.

Jane draws on her years in business to help senior sales leaders create engaging, collaborative and profitable client relationships. She crafts solutions that include repeatable processes, insights-based sales positioning, value-based selling, bridging the gap from tactics to strategy and telling the right story. The result is better articulated value, better delivered value and a better value to your bottom line.

Even HR leaders bring her in to coach managers on inspirational leadership and using Relational Intelligence to build high-functioning cross generational teams and improve employee engagement.

With continued appearances on the speaking platform at high-profile meetings from Canada to the Czech Republic, Jane addresses topics from Relational Intelligence to Inspirational Leadership to Selling Value. Audiences and clients have described her as "a woman with a vision," "energetic" and "inspiring".

The world's most successful organizations have brought Jane on board, including Assurant, The Home Depot, Milliken, Philips, Coca-Cola, Georgia Pacific, BAE Systems, Stryker, GSK, Eclypsis, Transamerica, Wellpoint and SAIC.

Jane holds a BFA/MFA from Kent State University/ The University of Pittsburgh. She also holds a CPI (Certified Professional Innovator) distinction from GA State University. Earlier in her career she was a professional stage actress. Jane lives in Atlanta, GA.