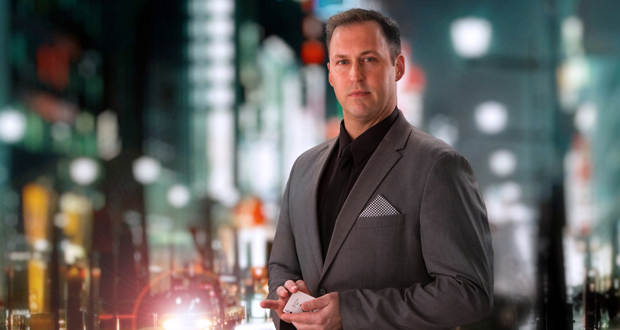 Jason Michaels
Corporate Event Entertainer & Illusionist
X
Program Descriptions
CardShark, The Show
A one-of-a-kind, interactive performance that dives deep into the arts of amazement and deception. Perfect for intimate groups that want to experience the shadowy world of scammers, gangsters, and card cheats in a safe and wickedly funny way.

Private VIP Appearances
When Jason Michaels makes an appearance at your event, expect the room to be filled with amazement, laughter, and awe. A master at weaving stories with expert at sleight of hand, The CardShark will give your guests stories to tell for the rest of their lives!

An Evening with The CardShark
Designed for large groups. Experience a unique evening of interactive mysteries and hilarious, true stories of con artists, fortune tellers, and underhanded magicians.

Corporate Casino Night - Special Attraction
While Blackjack and Poker tables are commonplace at such events, this night has a reserved corner that no has ever seen before. The CardShark holds court - giving guests the opportunity to be swindled, conned, and flat out lied to - all in the spirit of grabbing a glimpse into a part of history that is unsavory, tempting, and seductively attractive.

Cigars, Cognac, and Cons - An Evening of Deception
Premium cigars, V.S.O.P, and a cast of con artists await your group in this fully themed event. Your guests will meet and interact with an expert of the 3-Card Monte, a gypsy fortune teller, and other professional deceivers. The night will be topped off with a stage performance by The CardShark that promises to impress and intrigue even the most discriminating guest.
Jason Michaels, better known as "The CardShark," is a dynamic and engaging speaker & entertainer with astounding expertise in the arts of deception. He has been a student of sleight of hand, illusion, and theater for almost 25 years. A storyteller by heart, Jason loves to blend impossible mysteries with unforgettable tales of adventure, danger & romance.

Diagnosed with Tourette's Syndrome at age six, Jason has overcome "the impossible" and become an internationally award-winning sleight-of-hand artist and professional speaker. At age sixteen he discovered a passion for live theater and, after wandering into a magic shop later that year, Jason's path in life was set.

As a professional speaker and entertainer, Jason is celebrated for his ability to engage and inspire his audiences. Because of his own creative & inquisitive nature, Jason thoroughly enjoys performing for both artistic, cultured audiences as well as highly intelligent, analytical crowds.

Jason has shared his style of interactive humor, sleight of hand, and illusion with audiences on cruise ships and at corporate events, universities, performing arts centers, and private social affairs all over the world, including the Bahamas, Shanghai, Beijing, London, Las Vegas, Chicago, Atlantic City, Orlando, and his home, Nashville.