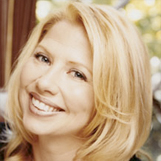 Jeanne Benedict
Host, Designer, Chef on DIY Network's Weekend Entertaining
Traveling From
California
X
Program Descriptions
Custom speaking / demo programs designed to enrich home & work life such as Stylish & Stress-Free Entertaining or Easy & Elegant Wine Tasting Ideas
Interactive, custom Creative Workshops with take-home items for men & women – great for group morale and building relationships
Having It All – Having Too Much
Why Book Jeanne Benedict?
Jeanne is known throughout the country as the party planner's queen! She has held her own DIY network television show, appeared on numerous talk shows, and is a web entrepreneur - her tips and tricks make any occasion festive
Jeanne holds keynote speeches as well as work shop sessions on the topics of hospitality, family, women's issues, home & garden, and dinner events. Your audience will love Jeanne's fun attitude, original ideas, and experienced professionalism!
Jeanne Benedict is fast becoming a household name and face! Benedict's popularity has been on the rise since the success of her first book and as the host / designer of the TV theme party show, Weekend Entertaining, now in its 4th Season on the DIY network, she's sure to take the country by storm!

In Spring 2005, Jeanne partnered with Michael's Arts & Crafts in a national media tour for their new book on paper-crafts, and in Fall 2005 Jeanne shared party recipes on local TV as spokesperson for Future Foods. In Fall 2004, Jeanne scored big with sports fans as the home tailgating expert in the PrilosecOTC sponsored sweepstakes and SMT along with football legend and CBS sports analyst Phil Simms and country music star Clint Black.

TV viewers know Jeanne from over 100 appearances as a lifestyle / party expert and chef on shows such as ABC's Live with Regis & Kelly, The CBS Saturday Early Show, NBC's The Other Half, HGTV's Smart Solutions, FX Network's The X Show, Do It Yourself Network's Ask DIY & Weekend Gourmet, Soapnet's Soap Talk, and many more. Some of Jeanne's national promotional partnerships have been with RIT Dye, 1(800)Flowers, and C&H Sugar where her fun video, Gingerbread House Party was offered on 6,000,000 sugar boxes.

Jeanne's first book, The Sophisticated Cookie, was published by Penguin-Putnam, Inc. in September 1998 and she's followed up at a rapid pace with creative cookbooks and lifestyle guides entitled, Sophisticated Entertaining: Spirited Food for Grown-Up Parties (Oct. 2000) and Celebrations: A Joyous Guide To The Holidays From Past To Present (Nov. 2001). However, her latest book, Pregnant For 100 Years branches out on a humorous limb of the family tree, offering a collection hysterical one-liners and pre-mom tales from those who've been in the pregnancy trenches over the last century and survived.

Benedict's introduction to the LA party circuit was in 1987 as an event coordinator for high-power political and social functions, some of which included fund-raisers for Senator Ted Kennedy, Barbara Boxer, and The Human Rights Campaign Casino Nights hosted by Joan Rivers. Simultaneously, she apprenticed at Somerset Caterers where she gained her knowledge of cuisine, presentation, and party etiquette. In 1991, she began her own production / catering company, Ice Entertainment, specializing in inventive theme parties from food to decor. Her belief that personalizing events creates the ultimate party atmosphere has made her a local favorite on the LA scene.
Books