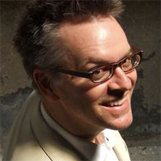 Jeff Caldwell
A Standup Guy
Why Book Jeff Caldwell?


His hilariously cerebral comedy style and scientific background are appealing to executives looking to energize audiences and keep a sophisticated, professional tone.
"Smart and funny." That's what George Carlin had to say about Jeff Caldwell after seeing him a few years ago at Caroline's Comedy Club in New York. We couldn't agree more. Jeff Caldwell's quick wit, good taste, and clever material have made him a favorite nationwide. Jeff has shown his comic wares on TV as the host of ESPN's "Sports Figures" and as a standup performer on many shows incuding Metro Channel's "New Joke City with Robert Klein", ESPN's "The Lighter Side of Sports", A&E's "An Evening at the Improv", "The Late Late Show with Craig Ferguson" and five (and counting) wildly successful sets on CBS' "Late Show with David Letterman." Jeff is also a favorite on the college circuit and tours the country with Comedy Central's Jon Stewart. At one Washington, D.C. show, Al and Tipper Gore raved "very funny, very funny!" before jealous Secret Service agents rudely swept them away. Jeff is a rare comic who can make the audience double over with laughter without resorting to sleazy, stupid material.