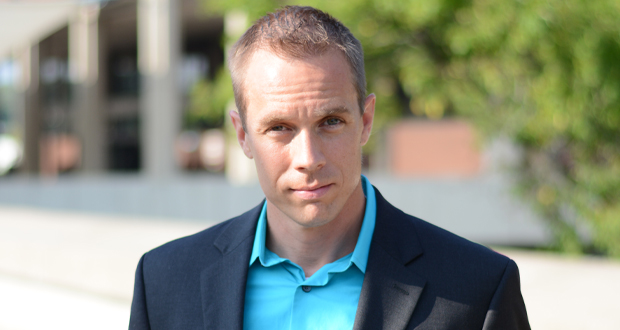 Jeff Havens
Because Improving Your Business Doesn't Have To Be Boring!
X
Program Descriptions
Decoding Your Customers! Perfecting the Customer Experience In Four Simple Steps
Ah, the customer experience.

It used to be that you just had to provide customers with good service, right? But that somehow became synonymous with dealing with problems and putting out fires, and so now you have to provide your customers with an experience that is so positive, happy, seamless, and nauseatingly joyful that they will happily wait in lines for hours just for the privilege of giving you money. You'd be forgiven if creating a great customer experience sounds exhausting. If only there were a fun, funny, high-energy, deeply researched keynote to help you figure out how to make this process a little easier.

Well now there is. Decoding Your Customers: Perfecting the Customer Experience in Four Simple Steps will provide you with a comprehensive, straightforward, and entertaining explanation for how to win hearts and minds like never before.

Now there are plenty of other customer experience keynotes. But the overwhelming majority of them either tell you how important it is to make your customers feel special (which you already knew) or share stories of businesses who have loyal customers (which you've already heard). And if you want to hear what you've already heard before, then hire somebody else.

Decoding Your Customers takes a vastly different approach. As hilarious as it is informative, this keynote concentrates on the human behaviors that have brought the customer experience to where it is today, then synthesizes those behaviors into four simple realities that provide a clear vision for how to move forward. Decoding Your Customers will answer why customers behave the way they do and how you can meet their needs - not only today, but into the foreseeable future as well.

And last but certainly not least, this isn't going to be a dry talk. You'll walk away with a better understanding of customer psychology and how to adjust your business accordingly, but that doesn't mean you can't laugh as hard as you ever have at a corporate keynote. Because with Jeff Havens, you get serious solutions in a seriously funny way. It turns out that crafting a winning customer experience strategy isn't as scary or unpredictable as others may have made it seem.

Us Vs. Them (generational issues)
If you've listened to any other discussion about generational issues at work, then you've undoubtedly been told there are four distinct generations operating side-by-side in today's working world. You've then been told the differences between those four generations, and then you've been told (although probably not in these exact words) that you need to just deal with all these different people, because they're not going away and they're not going to change how they operate. If that advice suits you, fantastic.

However, if you've ever been frustrated by how impossible it seems to employ four different strategies to manage four distinct generations, and if you've ever felt like you're the only one who's being asked to make any changes, then Us Vs. Them is exactly what you need. Because it turns out that there really aren't four generations. In this hysterical keynote, you'll learn a simpler way of looking at your own generational picture, and you'll also learn how to understand, recognize, and resolve every generational issue facing today's workforce. That's no exaggeration; by the end of Us Vs. Them, you and your colleagues will walk away with all the knowledge you'll need to address 100% of the generational issues you'll face for the rest of your career. Other generational presentations focus on what people want, but Us Vs. Them will tell you why everyone wants the different things they do. It's an important distinction, and it will make implementing new solutions easier than you ever thought possible.

So, get ready to laugh more and learn more than you ever thought possible. Because improving your generational issues doesn't have to be boring.

Uncrapify Your Future: The Most Innovative Innovation Keynote In The History Of Ever
Innovation keynotes generally start off something like this: "The world is changing faster now than ever before. Everything you're doing now is about to become obsolete, and if you don't come up with something amazing in the next 18 seconds then your business is basically going to disappear. Have a nice day." If that's the kind of doomsayer message that really gets you energized and excited to hear more, then you can stop reading now.

But if you'd like to present innovation as a simple process that literally everyone is capable of performing, then you might enjoy Uncrapify Your Future. Filled with the trademark wit that has made Jeff Havens one of the most in-demand speakers in North America, Uncrapify Your Future will make the process of coming up with new ideas easier and more rewarding than you ever thought possible. Because it turns out that every innovation in every industry – from automobiles to streaming music, coffee cup holders to wartime treaties – follows the same straightforward pattern.

Your business is always changing, and so you will always need people to anticipate and capitalize on those changes. If you want them to think that being innovative is a daunting task that only a few elites can handle, listen to someone else. But if you want your audience walking away realizing that they're all capable of greatness, then Uncrapify Your Future is for you.

Oh, and did we mention that it's also hilarious? Well it is. And imagine that – a keynote that's both educational and enjoyable. How innovative!

Unleash Your Inner Tyrant! (management and leadership)
The first of its kind, Unleash Your Inner Tyrant! helps managers and executives become better leaders by showing them everything they should avoid – including how to create a culture of fear and mistrust, how to oppress and demoralize employees, and how to stand firm in the face of all change – before wrapping up with a serious conversation about the kind of leaders we should all strive to become.

Covering four main areas of leadership (corporate culture, management/employee relations, crisis management, and change management) Unleash Your Inner Tyrant! is every bit as content-rich and intensively researched as a more traditional leadership seminar but has the added benefit of an unparalleled delivery style that will have your audience laughing the entire time they're learning how to become more effective leaders. Simply put, there is nothing else like this in the business world, and no better way to energize your management team while providing them with invaluable training they will remember for months and years to come.

Uncrapify Your Life! (communication, change management)
Designed for a broad spectrum of audiences, the award-winning Uncrapify Your Life! keynote is a masterstroke of reverse psychology. Promising to give audiences permission rather than advice, Uncrapify Your Life! will 'encourage' your team to employ the MYFABMOFA plan (watch the demo video to find out what that means) for a hysterical study in exactly how not to talk to others. You'll laugh harder than you thought possible at a conference keynote before Uncrapify Your Life! brings it all home with a poignant and powerful discussion about how small changes in our communication strategies can often be the most important (and least expensive) way to strengthen relationships, increase loyalty, and create an unbreakable culture of teamwork and mutual respect.

By highlighting and then poking fun of practices we're all occasionally guilty of, Uncrapify Your Life! is at once hilarious and meaningful, offering a motivational communication and teambuilding keynote utterly unlike anything you've ever seen and that is guaranteed to leave you refreshed, surprised, and begging for more.
Why Book Jeff Havens?
Because you want a high-energy keynote that offers as many laughs as it does 'a-ha!' moments.
Because you want someone who can speak for 45 minutes, or 60, minutes, or 90 minutes, or 2 hours, without losing your audience's attention for a second.
Because you want someone who is extremely easy to work – not high-stress, not even low-stress. No stress.
Because you want your conference keynote to speak directly to your attendees, as opposed to a canned presentation that "works for everyone." (Does anything work for everyone?)
Because you believe, like Jeff does, that improving your business doesn't have to be boring.
Jeff Havens is not your typical business growth expert. His uncanny ability to provide actionable answers to today's business challenges in an undeniably entertaining and impactful way has put him in front of over 1,000 eager audiences across North America and Asia. Delivering well-researched and relevant business insight is something a lot of keynote speakers do, but combining that with the entertainment value of a comedy show is not. Engaging, charismatic, and full of energy, Jeff Havens is the only business growth expert who provides serious solutions in a seriously funny way.

But even more than that, Jeff makes things easy. All of us are constantly being asked to do more with less, so the last thing you need is someone to tell you how difficult your challenges are. Jeff has a unique ability to simplify seemingly complex problems in a way that will provide your audience with a fresh perspective, one that runs counter to the conventional wisdom of the business world. He'll show you that we're not actually creating a completely new type of person every 15 years, that being innovative is not something only a few special people know how to do, and that both exceptional leadership and exceptional customer experiences are built on surprisingly slender foundations. You will leave Jeff's keynotes refreshed, relaxed, happy, and more confident than ever that you are prepared for the road ahead.