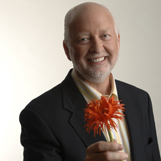 Jim McCann
CEO of 1-800-FLOWERS.com
X
Program Descriptions
Stop and Sell the Roses
The story of Jim McCann, tracing his early days as a social worker in New York City through the development of 1-800-FLOWERS.com as an internet pioneer and a leading gift company.

What Being a Social Worker Taught Me
How McCann's years spent running a home for boys in New York City influenced the management style he uses today.

The Importance of Relationship Building and Customer Service
Nothing is more important than customer service, and to McCann, nothing establishes strong customer service more than building a relationship. But how do you do that? He has some definite ideas...

Lessons as an e-Commerce Pioneer
1-800-FLOWERS.com was a pioneer of e-commerce in 1992, when it became one of the first companies to sell online. The company has continued to enhance its pioneer reputation over the years. Learn some of the company's secrets of its online success.
The man who revolutionized the floral industry grew up with a bare patch of lawn outside his home occupied not by flowers, but by weeds. How ironic, then, that Jim McCann would, in 1976, go on to take a single flower shop on Manhattan's East Side and turn it into a billion dollar omni-channel retailer, and the world's leading gourmet food and floral gift provider. Today, as a highly successful entrepreneur, public speaker and published author, Jim's passion remains the same – to help people connect. Jim's willingness to embrace new technologies that enhanced customer engagement, such as 800 phone numbers and the Internet, often long before other retailers, has consistently kept 1-800-FLOWERS.COM ahead of the curve and positioned it as a leading innovator in the marketplace. Jim's strategy for growth includes an effective combination of birthing new businesses and making acquisitions of businesses and brands that resonate with customers for their gifting and celebratory occasions. He has expanded his company's gift offerings to include such iconic brands as: Harry & David®, Fannie May®; Cheryl's®; The Popcorn Factory®; and 1-800-Baskets.com®, among others.

Jim is also deeply involved in philanthropy, particularly helping disabled people find meaningful employment (Jim has a younger brother who is developmentally disabled). This includes Smile Farms, a non-profit organization he helped found with a five-acre farm in Moriches, NY that currently employs more than 30 developmentally disabled adults. These farmers grow flowers, plants and food products to be sold and used in their local communities.

In addition to serving as Executive Chairman of 1-800-FLOWERS.COM, Jim is the Chairman of the Board of Willis Towers Watson. He also serves as a director for Scotts Miracle-Gro, Inc., and IGT as well as a variety of private and not-for-profit boards.
Books

A Year Full of Flowers