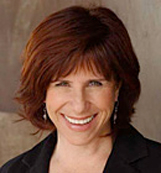 Judy Carter
Motivational Humorist, Big Laughs - Big Message
Traveling From
California
X
Program Descriptions
Stress Management: Laughing Your Way Through Stress
Life and work are stressful - overwhelming deadlines, stacks of paperwork, communication breakdowns... and that's just Monday.

Inspirational: Getting What You Want Before You Forget What It Is!
Judy illustrates the power of humor and teaches us how to turn problems into punchlines, resolve conflict and build camaraderie so everyone will walk away with tools they can use immediately.

Leadership: When Things Get Dire—Inspire!
Her "Don't get mad, get funny" philosophy inspires people to deal with issues such as downsizing and layoffs -- not to mention that overflowing inbox -- with a sense of humor, rather than a sense of desperation.

Laughter IS the Best Medicine!
Does anyone ever stop to think about the people on the other side of the reception desk? Judy Carter does. That's why she enjoys giving back to the Healthcare Community with special keynotes for the people who provide us care across the country. Let Judy say thanks to your healthcare employees for being true miracle workers with her funny and inspiring performances, which are 100 percent customized and tailor-made for each client.
Judy Carter, author, speaker, and Goddess of Comedy has appeared on more than 100 television shows. Her latest book, The Comedy Bible (Simon & Schuster), is the definitive guide to making a career out of making people laugh. When Judy was featured on The Oprah Winfrey Show, Oprah herself said, "Judy Carter can show you how to make your sense of humor payoff." And that's exactly what's she's done..

As a speaker and trainer, Judy has a "Big Message" that gets even "Bigger Laughs." She inspires people to use their sense of humor to transform problems into punch lines so they can decrease stress, increase profits, without gaining weight!

Judy's expertise at teaching others to use comedy to transform their lives and careers has created a nationwide demand for her as a corporate speaker, comedy coach, comedy writer and workshop leader. Her messages include: Stress Management, Leadership Skills, Conflict Resolution, and Whining Reduction. Judy has been the closing keynoter for: Fedex, Blue Cross, Revlon, Pfizer and many others.

Judy's success in corporate comedy has generated feature articles in the Wall Street Journal, LA Times, New York Times and Success Magazine to name a few. She has also been featured on many National TV shows such as CNN, ABC World News and Oprah, as well as being a regular contributor to National Public Radio.