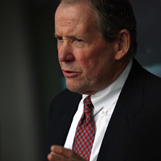 Larry Farrell
Authority on Entrepreneurship
X
Program Descriptions
KEYNOTE ADDRESS (business, government and education conferences)
Larry Farrell has taught entrepreneurship to more people, companies and governments than any person in the world. His fast moving Keynote Address examines how the power of entrepreneurship can be harnessed by individuals, organizations, and entire countries to compete and prosper in the 21st century. The Keynote Address has entertained and challenged audiences all over the world. It's a rapid-fire drill in amazing facts, powerful examples, humorous anecdotes, and thought provoking recommendations to take away.

CORPORATE ENTREPRENEURSHIP (companies and business associations)
Our Corporate Entrepreneurship message can be delivered as a Keynote Address for company conferences, a half-day Executive Overview for boards and senior management or as our most widely used program, the full-day Corporate Entrepreneurship Seminar for all management teams. The core message is that creating and growing a business is very different from "managing" a business. These sessions offer participants a unique grounding in high-growth entrepreneurial practices – and a roadmap for creating a more entrepreneurial organization. The full day seminar is designed for 25 to 40 managers, with half the day devoted to Application planning. The session has two goals: that participants learn the entrepreneurial basics which propel all high growth enterprise and leave with a plan for instilling those basics in their own departments - and across the organization.

GETTING ENTREPRENEURIAL! (aspiring entrepreneurs)
70% of students and workers dream of someday running their own business -- to achieve a greater sense of fulfillment in their work and to assure their family's economic prosperity. Our Getting Entrepreneurial! Seminar gives participants the secrets of the world's great entrepreneurs, plus the eleven essential application exercises to get them started. The full day seminar is designed for 25 to 50 people, with half the day devoted to Application planning. The session has two goals: that each aspiring entrepreneur will learn the entrepreneurial basics, and will leave the session with his/her own entrepreneurial action plan for starting their own business! On-going start-up assistance, including 30 and 90 day follow-up sessions, are also available.

CREATING ENTREPRENEURIAL ECONOMIES (governments)
The driving force of every successful economy in the world is entrepreneurship. The program describes how governments can create more entrepreneurial economies by encouraging, training and supporting large numbers of new entrepreneurs each year. The session details our four phase project approach to spur job creation, business start-ups, and economic development. It concludes with Applications to determine what key actions must be taken to create a self-sustaining and job creating entrepreneurial economy.

THE ENTREPRENEURIAL UNIVERSITY (educational organizations)
The best practices of the top university entrepreneurship programs in the world are presented and discussed. Based on this review, the university executive and academic team develop an action plan to raise the profile, quality and end results of their own entrepreneurship curriculum and program. A half-day teaching demonstration of our Getting Entrepreneurial! Seminar, for the faculty and select students, concludes the day.
Larry is the Founder and Chairman of The Farrell Company, the world's leading firm for researching and teaching entrepreneurship. He founded the firm in 1983 to do ground-breaking research into the high-growth business practices of the world's great entrepreneurs. Today, with Affiliates in North America, Asia, Europe, South America and Africa, over six million people, in forty countries, across nine languages, have attended the company's programs. Over the past three decades, Larry has personally taught entrepreneurship to more individuals, companies, and governments than any person in the world.

His work has received praise from Peter Drucker, Tom Peters, Fortune, Business Week, The Conference Board, and more. His books have received critical acclaim and are translated into numerous languages. The firm provides: The Entrepreneurial Age keynotes for conferences, Corporate Entrepreneurship seminars, Getting Entrepreneurial! seminars for individuals and Creating Entrepreneurial Economies projects for governments. Clients range from blue-chip global companies, to world- class universities, to government agencies responsible for economic development.

Larry has a diverse background: Peace Corps Volunteer, Harvard Business School, University of California Law School, Vice President of American Express in New York and President of Kepner- Tregoe in Princeton, NJ. He has been a Contributing Editor for The Conference Board Review in New York, a columnist for Entrepreneur Magazine in India, and is an Advisory Board member to Cambridge University's Enterprise Solutions to Poverty project in the UK.
Books