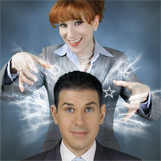 Larry and Raven
Mesmerizing Duo
For over a decade, Larry & Raven have fascinated audiences worldwide with a unique blend of illusion and ESP. Their specialty is a unique two-person telepathy act. Today, there are only a few couples who have developed this rare ability. They are part of a lineage that spans more than 150 years. Now, this young dynamic couple bring ancient arts to the 21st century with an amazing strength and freshness.

Mystifying, highly entertaining, and outstanding in their field, they have a powerful impact on sophisticated audiences everywhere - A-list private parties, on cruise ships, hotels, and at corporate events across the United States. As Carolyn Baragona, of "Event Solutions" magazine, pointed out "Larry and Raven will give an audience something it has never seen before... Guaranteed." They never fail to bring the house down with each show.

Fast-paced, dynamic, unbelievable, and totally interactive, what they accomplish on stage is purely and simply incredible; whether divining the serial numbers on a bill someone pulls from their wallet, or correctly identifying words people chose at random from piles of books they manage to win over the most die-hard of skeptics.

One of the most talked about features of the show is their unique two-person mind reading demonstration. Audience members are asked to focus on a thought or personal object. Then, with eyes sealed completely shut, Raven calls out first and last names and exact date of birth even though she has never met them before. She describes photographs carried in wallets and even tells the names of people in the photo. It is even possible for her to describe objects in a woman's handbag with pinpoint accuracy.

Is there some yet undiscovered link between them? They freely admit that what they do is not supernatural. There are no secret assistants and they have never used any hidden electronic communication. They use only their two minds to mystify and it is simply the result of years of study and communication of two people on a completely different level.

Whether there's an audience of 5 or 500, Larry & Raven deliver an engaging mix of interactive entertainment that will be remembered for years. Their performances are as much with the audience as they are for the audience. Make your event a unique an unforgettable experience with Larry & Raven. It is an evening of intelligent, interactive entertainment that will be remembered for years.