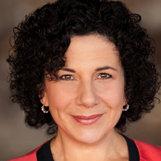 Laura Berman Fortgang
Discover Your Life Blueprint®, Personal Coaching Pioneer
Traveling From
New Jersey
X
Program Descriptions
CHANGE is the New Normal: How To Cope, Deal and Thrive

As a change agent for individuals and organizations alike, Laura will show you how to navigate the unpredictability of change by pointing out the personal foundation that each of us needs in order to anchor success and stay on task.
Productivity can still come out of times of great change. Laura will demonstrate which factors need to be in place.
Doing things the same old way will not work now and resistance is futile. It really is possible to embrace change and come out unscathed.

Rewrite Your Story to Advance Your Success

We all tell stories. Brands tell stories. Marketers tell stories and we tell stories to ourselves about what we can or cannot achieve. The key is to know which stories to believe.
Changing circumstances often require changing stories. Laura will show you what you need to do.
Based on studies in psychology, neuroscience and the study of success, Laura's presentation will help your business landscape change!
The Power of Positive Leadership:
Coaching Skills for High Impact Results Learn from one of the world's top coaches how to get results from your people like she does for her clients! This presentation will introduce advanced communication and coaching skills as essential tools for maximizing human capital.
Why Book Laura Berman Fortgang?
Serial self-help author and a personal life coach, Laura is sought after by many as a professional speaker on life balance, change, and motivation
Laura's professional life is anchored by her international reputation as a pioneer in the personal coaching field. She has worked extensively as an executive coach as well as personal coach to business owners and individuals. One of the first to receive formal coach training, she also was part of the founding team of the International Coach Federation which led to being called upon in corporate, government, and public sectors as an expert on coaching skills training and it's impact on leadership. Laura has brought coaching to NASA, the Army Corps of Engineers, and Florida's State Government as well as to dozens of Fortune 500 companies that include giants in finance, pharmaceuticals and food service and supply. She has worked internationally for the World Bank, J&J in Singapore, a private company in Tokyo and teaching coaching skills in London, Dublin, and Stockholm.

Also popular in mainstream American media, Laura's appearances on Oprah, The CBS Early Show, NBC's Today, Good Morning Am erica, CNN, CNBC, to name a few, as well as a long stint as contributing editor for Redbook Magazine and as a Huffington post blogger, has helped her reach millions of people who want to improve their work and life.

Laura is a sought-after professional speaker whose signature sense of humor is part of her appeal. The same voice is captured in her five best-selling books now published in 13 languages. They include: The Prosperity Plan, Now What? 90 Days to a New Life Direction, Living Your Best Life, Take Yourself to the Top and The Little Book On Meaning which was a finalist for a Books for a Better Life award alongside the Dalai Lama.

Through her coaching company, InterCoach, Inc./ Now What?® Coaching , Laura's individual clients have sought her out to strategize career and life direction. Corporations have hired her as an Executive Coach to emerging leaders and C-Suite executives alike. Recently, she has been called on to bring her career coaching methodologies to high schools and colleges. Laura holds a B.S. in Communications from Boston University, is a graduate of Coach University and was ordained in 2006 by One Spirit Interfaith Seminary in New York City. She speaks Spanish fluently and uses her French when needed.

A wife and mother of three, Laura resides in New Jersey where she holds leadership positions in the community.
Books