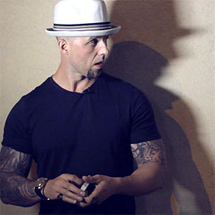 Matt Johnson
Magician & Entertainer
X
Program Descriptions
The Urban Deception Lecture
Matt Johnson has experience in spades and has been performing all over the world for more than 20 years!

​ As a performer he has done it all. From cruise ships and International hotels to corporate events for fortune 500 companies and theaters throughout the world. He has appeared in movies, TV shows and most recently appeared as a contestant on the hit TV show Penn & Teller Fool Us. Matt also appeared in the TV show Wizard Wars filmed in Los Angeles, California.

As one of Canada's busiest entertainers he performs his unique brand of thought provoking magic with over 300 live performances a year!

​ As a creator of original magic and mentalism effects Matt has released countless effects, books, dvd's and instant downloads over the past 25 years. He has also been a featured performer and teacher for other creators and can be seen on the TA box set and in the marketed effect "Freedom Writer" both by Paul Harris Presents.

Most recently in 2013 he was approached by Penguin Magic to release some of his own effects which included the best sellers, Melt and Melt 2.0, Pen Through Finger and Sweet. Matt was also asked to perform his lecture via the internet with his first Penguin Live Lecture in 2013.

All proved so popular that Penguin then hired Matt to rework old effects under the name "Matt Johnson Presents...". Each effect is given Matt's unique approach and worker approval. Such effects included Blindfoil, Dark Arts, Photographic, Billoon, Chaptrick White Bikes, and Blacksmith to name just a few.

As a lecturer Matt has lectured at FISM, the Magic Circle in London, the Magic Castle in Hollywood, IBM in the UK, the Adelaide Magic Convention in Australia and countless other Magic Clubs and conventions around the world!

Matt always has something new up his sleeve, so even if you have seen Matt lecture before you are guaranteed to learn some brand new & unpublished, mind blowing Magic and Mentalism.
Matt Johnson is originally from the UK but now resides in Vancouver, Canada. Matt has been performing and perfecting his craft in the art of illusion for more than 20 years. Over the past 20 years he has literally traveled the globe. Matt has performed in exotic locations such as Japan, Dubai, Argentina and Australia for companies such as Mercedes, Ford, AT&T, Toyota and Microsoft to name just a few.

Matt began his career in his hometown of Sheffield, England as a traditional magician and illusionist. On his travels around the world his knowledge in the mystic arts grew and he picked up techniques and skills from the countries he visited and the people he met along the way. It's this unique perspective that has allowed Matt to make his performances completely unique and utterly captivating.

Matt is not your typical magician, instead he has crafted a style know as Urban Deception, a cool mix of urban style street magic combined with the comedic timing and slick stage presence of a seasoned corporate performer.

He incorporates magic, sleight of hand, mind reading, the power of suggestion, off the wall comedy and lots of audience interaction into a performance that has been hailed as "...Simply Brilliant!"

Most recently in 2014 Matt appeared on the hit SyFy show Wizard Wars hosted by Penn and Teller, a TV show that broadcast to millions of viewers across North America. He was also brought on board to deliver his unique approach to magic at TEDx.

Matt is available for both strolling entertainment and stage entertainment.