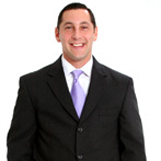 Michael Goldberg
Networking & Referrals Building
Traveling From
New Jersey
X
Program Descriptions
Networking Rules!
How to Attract More Prospects, More Referrals, and More Business
Imagine if there were rules posted at every networking event you attended including association meetings, conferences, conventions, trade shows, chamber mixers, golf outings, and community venues. Have no fear! The Rules of Networking are here! Learn the Rules of Networking and how to act at a networking event. Knock-Out Networking!

The One-Two Punch to Growing Your Business
Learn the techniques and approaches to effectively greet people, hand out and ask for business cards, actively listen, deliver an elevator speech, communicate with natural markets, create a target market, tactfully transition and end conversations, engage in business conversations, implement a networking plan, and most importantly—create key relationships.

Networking for Producers
The Proven Program Guaranteed to Grow Your Practice
Most take communication for granted and don't spend enough time developing the necessary skills. Networking, along with phone skills, persistence, and work ethic is vital to your success and your organizations overall survival. Outside of having a giving nature, the best networkers are focused, persistent, and organized. Discover the secrets of the top producers and how to develop and implement your networking strategy and make it with the power of communication.
Why Book Michael Goldberg?


He is great at helping audiences to not only understand the importance that networking has in growing their businesses, but also how to implement proven strategies that maximize results.
Michael is an enthusiastic and highly motivating speaker who engages his audiences in ways that help accomplish the meeting objectives while having fun.
Speaker, Author, Boxer, Knock Out Networker Michael Goldberg has helped advisors, brokers, agents, reps, and sales producers generate hundreds of thousands of dollars to their bottom line.
Described by clients as a "spark plug", Michael is a master at invigorating and engaging audiences. His "knock-out" style is "in your face" and high energy. His content is "real world" and can be applied immediately.
Michael speaks at conferences and associations, runs sales meetings, and delivers "results driven" programs on networking, referral marketing, and sales presentations. When he tells an audience how to do it, they know he has already done it…and it works!
Clients include Merrill Lynch, John Hancock, MetLife, Securian Financial, New England Financial, Aflac, MassMutual, New York Life, AXA Advisors, Thrivent Financial, Prudential, and Chubb & Son.
Michael's writes regular columns for Life Health Pro, Producers Web, Producers E-Source, The Elite Advisor, and Realtor Magazine and has been quoted in the Harvard Business Review and the Wall Street Journal. Michael has spoken at numerous industry conferences in the financial services industry including LAMP, NAIFA, NAHU, and The Sales Mastery Forum.
Educational background includes a Masters Degree in Training and Organization Development from Lesley University and a Bachelors Degree from CUNY Brooklyn in Hospitality Management.
Michael Goldberg is a Certified Speaking Professional (CSP), an earned designation awarded by the National Speakers Association and the International Federation for Professional Speakers to recognize demonstrated commitment to the speaking profession through proven speaking experience. Fewer than 7 percent of the thousands of speaking professionals worldwide hold this designation.
Michael is currently an award winning adjunct instructor at Rutgers University and frequently volunteers as a speaker at organizations focused on career search.
Books

Knock-Out Networking!