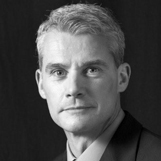 Michael Strobl
A Soldier's Story: Taking Chance
Why Book Michael Strobl?


He shares the moving account of his journey accompanying home the body of a soldier who had been killed in Iraq.
His story is featured in the critically acclaimed movie Taking Chance.
Michael Strobl enlisted in the Marine Corps in 1983. He was commissioned a second lieutenant in December of 1987 and served around the world in various duties as a field artilleryman. He deployed with both the 15th and 13th Marine Expeditionary Units (Special Operations Capable) and served in Saudi Arabia and Kuwait as an artillery platoon commander during Desert Storm.

Retiring from the Marine Corps in 2007 he accepted a position as an Operations Research Analyst in the Office of the Secretary of Defense (Cost Assessment and Program Evaluation). He currently works at the Pentagon.

Lieutenant Colonel Strobl holds a Bachelor's of Business Administration (BBA) degree from Colorado Mesa University, a Master's of Business Administration (MBA) degree from Averett University, a Master's of Science (MS) degree, with distinction, from the Naval Postgraduate School, and a Ph.D. in economics from George Mason University.

His personal memoir entitled "Taking Chance" (2004) has appeared in numerous books and was included in the 2007 documentary "Operation Homecoming" which was nominated for both an Academy Award and an Emmy Award. Lieutenant Colonel Strobl co-authored a screenplay based on his original story. In 2009 Home Box Office released the film which stars Kevin Bacon in the leading role as LtCol Strobl.

The HBO Film "Taking Chance" was nominated for two Golden Globe awards and ten Emmy awards including Outstanding Made for Television Movie and Outstanding Writing for a Mini-Series, Movie, or Dramatic Special. Lieutenant Colonel Strobl and his co-author won the 2009 Humanitas Award for their screenplay and the 2010 Writers Guild of America award for best adapted screenplay for a television movie.