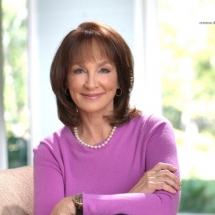 Nancy Snyderman, MD
NBCNews Chief Medical Editor, Health Care Advocate
Traveling From
New Jersey
X
Program Descriptions
Healthcare: A Physician's View
Dr. Nancy Snyderman's unique experience and perspectives as both a physician and respected medical journalist provide audiences with valuable insights to the issues that surround today's latest healthcare debates and concerns.

Necessary Journeys: Letting Ourselves Learn from Life
How can we cope with the setbacks that we face throughout the course of our lives, without letting them hold us back? In this autobiographical address, Dr. Snyderman relates episodes from her past, including her rape at knifepoint while still in college and the husband who spent all of her money while leading a double life. She discusses how she has come to term with these traumas, and how she has been able to move forward.

The Healthy Woman: Taking Charge of Your Body and Mind
A look at women's health issues and health-care options. This topic also inspired a weekly segment on Good Morning America.
Why Book Dr. Nancy Snyderman?


She is a medical journalist who imparts a physician's perspective on healthcare and wellness.
She inspires audiences with her story on how to juggle life - health, career, and motherhood.
As a healthcare advocate, she discusses America's medical future.
Dr. Nancy Snyderman is NBC News Chief Medical Editor for NBC News reporting for "Nightly News with Brian Williams" and "TODAY." Snyderman is an award winning journalist and has garnered several of the industry's most distinguished honors including Emmy's, DuPont, Edward R. Murrow, and Gracie awards.

She has reported on wide-ranging topics affecting all strata of society and has traveled the world extensively, reporting from many of the world's most troubled areas. Snyderman also serves on the board of directors for GE's Healthymagination, as well as the Institute for Healthcare Improvement, and The Forman School in Litchfield, Connecticut. She is on faculty in the Department of Otolaryngology – Head and Neck Surgery at the University of Pennsylvania.

Prior to joining NBC News, Snyderman served as Vice President of Consumer Education at Johnson & Johnson, where she focused on the importance of digital health. Before that she served as the medical correspondent at ABC News for 17 years, contributing to "20/20," "Primetime," and "Good Morning America." She was a frequent substitute co-host on "Good Morning America."

Snyderman attended medical school at the University of Nebraska and continued with residencies in Pediatrics and Ear, Nose, and Throat Surgery at the University of Pittsburgh. She joined the surgical staff at the University of Arkansas in 1983 and began her broadcasting career shortly after at KATV, the ABC affiliate in Little Rock, Arkansas.

Snyderman's medical work has been widely published in peer review journals and she is the recipient of numerous research grants. She was awarded a Kellogg fellowship in 1987. She is a New York Times bestselling author, having written five books. She also writes a monthly column for AARP magazine.

Snyderman lives in Princeton, New Jersey and is the mother of three children. She is an avid equestrian and hiker.
Books