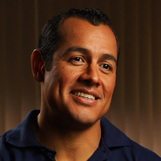 Oz Sanchez
RECON Marine & Double Paralympic Games Medalist
Traveling From
California
X
Program Descriptions
Know No Limits
Achieving successful change inevitably means overcoming obstacles. "We all have goals we'd like to reach," says Sanchez. "But often, we never reach our goals because of obstacles, or self limiting beliefs that we think stop us. We see these obstacles as undefeatable and impossible. The truth is that there is no obstacle that can stop us."

The Gold Medalist In Us All
Oz tells his story first hand of how he faced adversity and overcame. His success story is living inspiration for others.
Why Book Oz Sanchez?


He illustrates how there is a gold medalist in us all with his story of triumph as a paralympic athlete.
He talks about overcoming adversity by confronting obstacles and your fears to gain success.
Oz Sanchez is no stranger to overcoming adversity. He was born in 1975 and raised in Los Angeles, California. By the time he graduated high school he was involved with drugs, gangs and street life. In 1996, Oz turned his life around following his recruitment into the Marine Corps. In the Marine Corps, Oz found himself in his natural element and quickly excelled through the ranks. Soon after graduation from boot camp, Oz discovered and grew interest in joining the Marine Corps Special Operations forces – The RECON Marine. After passing the initial screening and lengthy selection process, he spent the rest of his career in specialized training such as scout sniper, combatant divers course, parachuting, and varying other types of specialized training. He visited over fourteen different countries and was twice deployed to the Middle East and other hostile regions.

After nearly six years with the Marines, Oz decided to transfer to the Navy to operate as a Navy Seal. In July 2001, during the time of his transfer between branches, Oz's life changed forever when he was involved in a hit-and-run motorcycle accident, which resulted in a spinal cord injury (SCI) and the inevitable paralysis and neurological complications associated with SCI.

After the accident, the biggest fear Oz faced was how he would define himself given his new physical parameters. He worked on developing both a renewed sense of identity and a transformed perception on life. "I managed to pull out of my post-injury depression. I took a proactive approach to life and once again took the bull by the horns," he said. Oz devoted himself to his educational studies and he graduated from SDSU with a degree in business administration and a minor in public communications in 2006.

Since the accident, Oz has proactively competed in the adaptive sports of handcycling and Triathlon. Oz worked his way to the top in both sports in relative short time. Today Oz is a double world champion in the sport of handcycling under the Paralympic umbrella. One gold and one bronze. At the 2009 UCI Para-cycling World Championships, Sanchez took home the gold medal in the individual time trial. Sanchez, at the 2010 World Championships, improved from the previous year, and took home two gold medals in the individual time trial as well as the individual road race.

In February of 2009, Oz Sanchez was recognized as the "Challenged Athlete of the Year" by the San Diego Hall of Champions.

Oscar "Oz" Sanchez is a man who does not know the meaning of quitting. Despite being severely injured, Oz is a devoted athlete who trains in the gym, in the pool and on a handcycle daily. "Everybody can achieve their dreams."

Oz Sanchez initially began his public speaking career for various military engagements and numerous non-profit organizations such as the Wounded Warrior Project. His motivational speaking career flourished after he agreed to be an official spokesperson for the Challenged Athlete's Foundation: Operation Rebound program,. He provides inspirational keynotes to numerous organizations nationally as well as internationally. For the past several years, Oz has been one of the official spokesperson/ambassador athletes for both the U.S. Paralympics Committee and The Hartford Financial Services Group, and flew all of the continental U.S. for speaking engagements. "I feel my accomplishments would be best utilized in this arena and also have a personal desire to support such a cause," Oz said.

Oz recently was featured in an incredible documentary called "Unbeaten". The challenged athletes in the film come to symbolize all who are forced to come to terms with the painful reality of living with a disability. They pull themselves from the depths of depression to leap over limitations, believing that nothing is impossible. The words "know no limits" are proudly emblazoned on Oz Sanchez's chest. It is these exact words that capture the essence of the award-winning documentary.