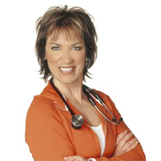 Pamela Peeke, MD
Best Selling Author of Body for Life for Women & Fight Fat After 40
X
Program Descriptions
Medicate With Movement
Dr. Peeke presents the impact of physical activity on mind and body functioning--- from mood to mammograms. She lays out the power of exercise on mental and immune function, aging, sleep, sexual function, and medical conditions. Dr. Peeke describes her Peeke Prescription from her book Fit to Live to achieve optimal endurance, strength, balance, flexibility and core function.

Integrative Fitness: The New Body Mind Science
Dr. Peeke defines her new term "integrative fitness" as the totality of mental, spiritual and physical fitness necessary for optimal, sustainable wellness. She traces the history of mind and body science from the Cartesian model to the current developments in neuroplasticity. Dr. Peeke describes the complex networks of brain chemicals and hormonal systems that link brain and body systems (the BodyMind), and their impact on immune function, growth and the aging process. Dr. Peeke presents a blueprint and action plan for optimizing the Body-Mind.

Stressed For Success
Using her pivotal research at the National Institutes of Health, Dr. Peeke describes the relationship between chronic elevations of stress hormone (Toxic Stress) and its effect on the aging process, immune function, memory, the deposition of fat deep inside the belly. Drawing from her books (Fight Fat after Forty: The Stress-Fat Connection; Fit to Live), Dr. Peeke presents the five essential elements necessary to optimize an individual's ability to minimize or eliminate Toxic Stress, and increase the quantity and quality of life.

A Mission Statement: Stay Alert And Vertical
Dr. Peeke describes the secrets of success of the centenarians. Using work done by Pearls at Harvard, and Snowdon's Nun's Study, Dr. Peeke lays down a simple road map of lifestyle habits that are shared by the majority of the gold medal winners in longevity. The mental, spiritual and physical habits and practices of the 100 year olds are related to their effect on medical conditions over the course of a lifetime. Dr. Peeke challenges men and women with a simple assessment of mental, nutritional, and physical tests, and then outlines her easy and accessible path to high quality longevity.

Girth Of A Nation: Live This Lifestyle At Your Own Risk
Dr. Peeke puts today's 24/7 lifestyle in perspective by presenting the evolution of American life from agrarian to high tech, from combines to computers. She draws the parallels between expanding economies and widening waistlines, and the ultimate medical, health and lifespan consequences. Dr. Peeke presents ten simple steps to regaining control of girth and wellness.
Dr. Pamela Peeke is an internationally recognized expert, physician, scientist and author in the fields of nutrition, stress, fitness and public health. On stage or in front of a camera, she combines her trademark energy, wit and humor with the latest scientific data to motivate and educate audiences of all ages to transform themselves for healthy living.

Serving as Chief Medical Correspondent for Discovery Health TV, Dr. Peeke is featured on the award winning National Body Challenge series and is the host of the Could You Survive? series, based upon her national bestselling book Fit to Live. Magazines including O, Prevention, Fitness and More feature her columns and editorials. Major television and radio networks including CNN, Fox and NPR interview her as a regular in-studio science and health news commentator. The multimedia healthy lifestyle program, Everyday Fitness with Dr. Pam Peeke, is available online to 50 million unique website users at WebMD.com.

Dr. Peeke's national bestselling books include Fight Fat after Forty, the first consumer book describing the complex science behind the stress-fat connection and what can be done to reverse it. Based on the groundbreaking research Dr. Peeke conducted at the National Institutes of Health, this state of the art book details her holistic, well integrated approach combining science and practical tools to help consumers cope with daily stresses to finally break the stress-fat cycle for life. In Body for Life for Women and the companion Body for Life for Women Workout DVD, Dr. Peeke uses cutting edge science and a holistic and integrative program to show women how to transform their lives as well as achieve and maintain their optimal mind and body fitness throughout the decades of their life. Dr. Peeke's third book, Fit to Live, presents wellness with a survival twist and challenges her readers with the question "Are you Fit to Live – Mentally, Nutritionally, Physically, Financially and Environmentally" to survive 21st century living, from divorce to disaster?

Dr. Peeke serves as spokesperson for the American College of Sports Medicine in its global initiative, Exercise Is Medicine, and she has been recognized by the National Library of Medicine as one of America's leading physicians in their touring exhibition, Changing The Face of Medicine.

Dr. Peeke holds the position of Assistant Clinical Professor of Medicine at the University of Maryland, School of Medicine and is a Fellow of the American College of Physicians. A native of San Francisco and a graduate of the University of California at Berkeley, Dr. Peeke was awarded her Baccalaureate in Science and Masters Degree in Public Health and Public Policy before completing her medical degree at Michigan State University and residency in internal medicine at George Washington University.

As a Pew Foundation Scholar in Nutrition and Metabolism during her postdoctoral fellowship at the University of California at Davis and then as the first physician to serve as Senior Research Fellow at the National Institutes of Health Office of Alternative Medicine, Dr. Peeke conducted research in the newly evolving field of integrative medicine. Dr. Pamela Peeke was among the first physicians with formal training in nutrition science and while at the NIH, studied the relationship between chronic stress, nutrition, and weight gain. She helped establish the scientific foundation for the research and development of investigations involving nutrition and fitness.

An avid athlete and known as the 'doc who walks the talk,' Dr. Peeke leads the Peeke Performance Center for Healthy Living and organizes Peeke Retreats that include mind and body challenges, marathons and mountain hikes driving personal growth.
Books