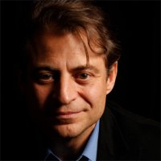 Peter Diamandis
Futurist & Founder of the X Prize Foundation
Traveling From
California
X
Program Descriptions
Creating a Culture of Innovation & Breakthroughs
Diamandis is a dynamic inspirational speaker — described by many as "the best in the industry." He delivers real value to his audience by showing them how to drive breakthrough thinking and innovation within their company that offer clear, measurable and objective results.
Based on the success of the Ansari X PRIZE (which stimulated the creation of a billion-dollar private spaceflight industry) and the success of additional X PRIZEs in Life Sciences, Energy, Environment and Exploration, Diamandis explains how to incentivize breakthroughs in your company and industry. Diamandis explains how traditional thinking, risk aversion and incrementalism will cause the demise of companies unable to cope with the coming decades of disruptive innovation.

The Coming Age of Abundance — Understanding Humanity's Future
In his keynote address, Diamandis examines human need by category — water, food, energy, healthcare, education, communication and freedom — and addresses how a range of powerful technologies such as synthetic biology, embedded networks and cloud computing, AI and robotics, biotechnology and medicine are transforming what was once scarce into something abundant. Providing abundance is humanity's grandest challenge — this is a keynote about how we rise to meet it.

Exponential Technologies Causing Disruptive Innovation
From his perspective of Executive Chairman, Diamandis provides passionate, insightful and extremely useful keynotes on the impact of the following exponentially growing technologies:
Artificial Intelligence
Computational Systems
Digital Manufacturing/3D printing
Synthetic Biology/Bioinformatics
Digital Medicine
Robotics
Network Systems
Nanomaterials
Diamandis discusses how breakthroughs in these areas will transform products, companies, industries and even society over the next 20 years. He provides key insights on how human society has transformed from "Local & Linear" to one that is now "Global & Exponential," and how this change is accelerating disruptive stress or disruptive opportunity depending on the company's point of view. These technologies are also leading to the greatest epoch of wealth creation ever, where new billion-dollar startups are coming out of seemingly nowhere at the same time that 50- and 100-year-old, billion-dollar companies are going out of business.

Transforming Your Company from "Linear" to "Exponential"
Competition for many of America's Fortune 500 companies is no longer coming from China and India. Today it's coming from two guys in a garage with a startup leveraging exponentially growing technologies. YouTube went from a startup on Chad Hurley's personal credit cards to being purchased by Google for $1.4 billion in less than 18 months. Groupon leaped from conception to $6 billion in value in less than two years.
At the same time that billion-dollar startups are materializing — seemingly out of nowhere — hundred-year-old industry cornerstone companies are crumbling. In 1996, Kodak had a market cap of $28 billion with 140,000 employees. In 2012, it went bankrupt. That same year, another company in the photography business called Instagram was purchased by Facebook for $1 billion. The company, which had been founded only a year earlier, had just 13 employees. The difference between Kodak and Instagram is the difference between a Linear and an Exponential organization, the subject of this keynote.
Dr. Peter H. Diamandis is an international pioneer in the fields of innovation, incentive competitions and commercial space. In 2014 he was named one of "The World's 50 Greatest Leaders" – by Fortune Magazine.

In the field of Innovation, Diamandis is Founder and Executive Chairman of the XPRIZE Foundation, best known for its $10 million Ansari XPRIZE for private spaceflight.

Diamandis is also the Co-Founder and Vice- Chairman of Human Longevity Inc. (HLI), a genomics and cell therapy-based diagnostic and therapeutic company focused on extending the healthy human lifespan. He is also the Co- Founder and Executive Chairman of Singularity University, a graduate-level Silicon Valley institution that studies exponentially growing technologies, their ability to transform industries and solve humanity's grand challenges.

In the field of commercial space, Diamandis is Co-Founder/Co-Chairman of Planetary Resources, a company designing spacecraft to enable the detection and prospecting of asteroid for precious materials. He is also the Co-Founder of Space Adventures and Zero-Gravity Corporation. Diamandis is the New York Times Bestselling author of Abundance – The Future Is Better Than You Think and BOLD – How to go Big, Create Wealth & Impact the World.

He earned an undergraduate degree in Molecular Genetics and a graduate degree in Aerospace Engineering from MIT, and received his M.D. from Harvard Medical School.

Diamandis' mission is to open the space frontier for humanity. His personal motto is: "The best way to predict the future is to create it yourself."

In 2016, the Greek Government honored him by issuing a 1.2 Euro stamp into circulation. Also in 2016, the book How to Make a Spaceship – A Band of Renegades, an Epic Race, and the Birth of Private Spaceflight, Peter's biography and the story of the XPRIZE was written by Julian Guthrie with a Foreword by Richard Branson and an Afterword by Prof. Stephen Hawking.
Books

Abundance