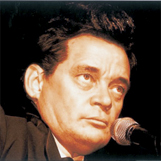 Philip Bauer
Johnny Cash Tribute
X
Program Descriptions
"What Outsiders Must Know about Health Reform: How to Prepare Your Business and Yourself"
Health reform isn't just for health professionals any more! As employers, leaders in any industry must respond cost-effectively to unprecedented changes in health benefits. As individuals, they need to know how to deal intelligently with new delivery systems and payment arrangements for their own health care. Dr. Jeff Bauer, a nationally recognized health futurist and medical economist, has prepared this entertaining, informative presentation to explain the evolving realities of American health care and what leaders in non-health industries can do to ensure appropriate medical services — for themselves and their employees. A unique and timely program: health reform explained in laymen's terms by an expert insider, plus recommendations for appropriate responses to new challenges!

"The Uncertain and Exciting Future of Health Care: Exploring a New Realm of Possibilities"
This fast-paced and informative presentation shows how and why health care will change more in this decade than it did in the previous 50 years. From a practical perspective, it explores strategic implications of the unprecedented revolution in medical science, transformational capabilities of information and communications technologies, the hidden impact of demographic shifts in the US population, and the economy's role in restructuring supply and demand for medical services. Reform of the delivery system is examined from these perspectives, with recommendations tailored specifically to the audience's position in the medical marketplace.

"A Realistic Update on Health Reform: Responding to Challenges and Opportunities"
Everyone agrees that the current health care delivery system is unsustainable, but there's no consensus on common solutions to the underlying problems. This future-focused presentation evaluates the range of competing approaches to reform -- from government intervention to private initiative -- and provides audiences with an independent perspective on strategies that their organizations can take to succeed in a turbulent marketplace by improving efficiency and effectiveness. The content is continually and immediately revised to reflect the latest political and economic events (e.g., Supreme Court decision on ObamaCare, presidential election, economic recovery).

"Mastering Chaos: Creativity 101 for Health Care's Daring Spirits"
This unique program begins with a practical, entertaining overview of the key characteristics of innovation for leaders who want to create something new of value. It uses examples of art, poetry, science, music, and other creative endeavors to define the mind-set of people who make an enduring, positive difference in their respective fields. The presentation concludes with a detailed list of personal and professional steps that health care leaders can take to enhance their success in meeting the ultimate challenge of health reform -- reinventing the way health care is delivered.

"The Art and Science of Looking Ahead: Upgrading the Crystal Ball for Creating a Viable Future"
Based on the speaker's newest book (Fall, 2013), this unique presentation shows audiences how to make strategic changes through informed analysis of actual trends and possible outcomes. It explains the major difference between predicting and forecasting and shows why forecasts must replace predictions as our way to evaluate where we are headed and how to get there successfully. The presentation identifies resources and makes recommendations appropriate for any organization that wants to expand its realm of future opportunities for success in turbulent, uncertain times. [Note: This speech is for all business audiences; it is not specific to health care.]
Why Book Philip Bauer?
Philip is a Johnny Cash tribute artist, and arguably "the absolute best". He sells out shows in cities all across the U.S.
A historic and entertaining journey for any music fans or enjoyers of the spectacular and original
Philip Bauer has been called the "absolute best" Johnny Cash tribute artist. Taking his audience on an entertaining and historic trip through the life and career of "the man in black," Bauer sings the hits and exhibits the stage charisma and mannerisms that made Johnny Cash a super star legend. That legend continues to live on through Bauer.

Bauer continues another successful year of touring that included sold out shows in 16 cities in Australia and an invitation to return in 2015 for a fifth five-week tour there. Bauer, who is based in Oklahoma City, has toured extensively throughout the United States, Canada and Mexico, selling out most of the venues he has played.

Bauer recently teamed up with a successful Nashville manager who states, "I want to bring only the very best in tribute acts to the public and, when it comes to Johnny Cash, someone I knew personally, Philip fits the bill."

That sentiment is echoed by W. S. Holland who was Johnny Cash's only drummer. "Philip Bauer represents Johnny Cash better than anyone else I have seen," Holland stated. "He has the voice, the look and the stage mannerisms of Johnny Cash. It's amazing." Dave Roe, who was Johnny Cash's bass guitarist feels the same. "He's so close it's kind of spooky," Roe remarked. Both Roe and Holland have agreed to work select dates with Bauer in the future ,which is the highest compliment he can be paid.

There is simply no way to describe Bauer and his performance except "unbelievable." From the signature greeting of "Hello, I'm Johnny Cash" to the final note, you will find the audience mesmerized. The show is truly a historic and entertaining journey for young and old alike.