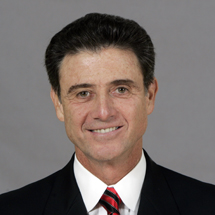 Rick Pitino
Louisville Cardinals Coach
X
Program Descriptions
Success Is a Choice
Rick Pitino takes the same proven methods that have earned him and his teams legendary status in the NCAA to give you a plan of attack for achieving extraordinary success in your own life. Rick Pitino's ten-step plan isn't for quitters or for people looking for the easy road to success. But neither is it for the superstar talents or those with a Midas touch who expect their luck to hold forever. "Success Is a Choice" is for anyone who is serious about making dreams reality. It's a tool for preparing yourself for the challenges you face - from developing habits and discipline that will get you started down the path to success to learning the value of ferocious persistence as you begin to reach and surpass your goals. Basketball fans have already recognized Rick Pitino's ability to get the most from his players. His message applies just as well off the court. An inspiring step-by-step program that will motivate almost anyone to perform better, "Success Is a Choice" can make a remarkable difference in your own life.
Rick Pitino, one of the most brilliant minds in coaching, began a new era in University of Louisville men's basketball when he was named the Cardinals' head coach on March 21, 2001.

The first coach in NCAA history to win a national championship at two different schools, Pitino's up-tempo style, pressure defense, strong work ethic and family atmosphere quickly returned Louisville to national prominence where it is firmly seated.

In 28 seasons as a collegiate head coach at five different schools, Pitino has compiled a 664-239 record, a .735 winning percentage that ranks him 12th among active coaches. His current contract ties him with U of L through the 2021-2022 season.

The first coach in NCAA history to take three different teams to the NCAA Final Four, Pitino is a member of the 2013 Induction Class for the Naismith Memorial Basketball Hall of Fame, lofty recognition for a lifetime of basketball achievement.

Pitino guided the Cardinals to the 2013 NCAA Championship after claiming the nation's top overall seed in the NCAA Tournament and winning the BIG EAST Conference regular season co-championship and tournament titles. UofL reached its 10th Final Four and second straight, the seventh for Pitino, a feat matched by only five coaches all time.

After winning his 600th collegiate coaching victory in the Cards' opening game of the 2011-12 season, UofL embarked on a terrific season in which it won 30 games, claimed the BIG EAST Tourna- ment title and reached the Final Four.

That followed another season of success. Despite opening the season with no regular returning starters in 2010-11, the Cardinals tied for third in the nation's toughest conference and reached the title game of the BIG EAST Champion- ship. Louisville beat seven Top 25 teams and rose to the national rankings themselves after not receiving a single vote in the preseason AP poll. In 2009-10, Louisville reached 20 victories for the eighth straight year against a top-five rated schedule. Along the way, U of L tied for fifth in arguably the nation's toughest league, beat then top-ranked Syracuse in the regular season finale, and played in the Cards' 36th NCAA Tournament.

The Cardinals earned both the BIG EAST Conference regular season and tournament championships in 2008-09, won 31 games -- fifth most in school history -- and gained the top overall seed in the NCAA Tournament before reaching the NCAA Elite Eight for the second straight year. U of L earned its first ever Associated Press No. 1 ranking in the final poll.

Six years ago, his Cardinals overcame early injuries to its front line to win 27 games against a schedule rated as the fourth-toughest in the nation. U of L earned a second-place finish in the BIG EAST and advance to the Cards' second NCAA Elite Eight appearance in four years.

In 2007-08, Pitino's youthful squad also battled through injuries to win eight of its last ten games and rise among the nation's top 20 teams over the last four weeks. UofL won 24 games, including a pair on the road over top 15 ranked teams, earned a second-pace finish in the Big East Conference and were No. 16 in the final AP poll.

The Cardinals were No. 3 in the nation in the final 2004-05 ESPN/USA Today poll while posting a stellar 33-5 record, matching the most victories in UofL history. UofL won its first-ever Conference USA regular season title and also claimed the league tournament title. Louisville reached its first NCAA Sweet 16 since 1997 before advancing to its first NCAA Final Four since 1986.

The successes of the 2005 Final Four squad were built upon the efforts of his early teams at UofL. The Cardinals won 16 straight during one stretch in 2003-04 and rose to as high as fourth in the national polls before a trio of key injuries disrupted the Cards' flight. Pitino gained his 400th career coaching victory with a 73-65 victory over then top-ranked Florida on Dec. 13, 2003, the first of two wins that season UofL achieved over No. 1 ranked foes.

In his second year at UofL in 2002-03, the Cardinals reached the No. 2 position in the AP poll. UofL reeled off an incredible 17 straight victories early in the season before winning its first-ever C- USA Tournament title.

In Pitino's first year at Louisville in 2001-02, he guided an undersized, often outmanned squad to a 19-13 record, upsetting the nation's fourth-ranked team along the way to earning a post-season tournament appearance in the NIT, nearly reversing the Cardinals fortunes the season prior to his arrival (12-19 in 2000-01).

Even under great adversity, Pitino's teams have persevered. After losing 60 percent of its scoring and four key upperclassmen from its 2005 Final Four team, Louisville battled through destructive injuries and inexperience during the 2005-06 season to post a 21-13 record in its first year in the BIG EAST Conference, concluding the year in the NIT national semifinals.

A 2006 inductee to the New York City Hall of Fame, Pitino has the second-highest winning percentage in NCAA Tournament games among active coaches, winning 75 percent of his games in the post-season event with a 48-16 record in 18 tournament appearances.

For three and a half years, Pitino served as president and head coach of the NBA's Boston Celtics. With the Celtics, he took over a team that had posted a franchise worst 15-67 record before his arrival. He quickly made an impact, improving the Celtics' victory total by 21 games in his first season. He resigned his position with the storied franchise on Jan. 8, 2001 after compiling a 102-146 record there.

He guided Kentucky to three NCAA Final Four appearances in his last five years there, winning the 1996 NCAA Championship and reaching the national title game in 1997. In eight seasons with the Wildcats, he amassed a 219-50 record (.814) while winning two league crowns and an impressive 17-1 record in the Southeastern Conference Tournament. While at UK, Pitino coached three Wildcats who earned All-America honors and eight players who were drafted by the NBA, including six in the first round (three lottery picks).

Pitino, 60, got his start in coaching as a graduate assistant at Hawai'i in 1974 and served as a full- time assistant there in 1975-76 when he was the head coach for the last six games of the season (2- 4) when the head coach was relieved of his duties. He served two seasons as an assistant at Syracuse under Jim Boeheim from 1976-78.

Pitino was only 25 years old when he accepted his first head coaching job at Boston University in 1978. He produced a 91-51 record in five years there, departing as the most successful coach in BU history. In his final season there, he guided the Terriers to their first NCAA Tournament appearance in 24 years. He was twice named New England Coach of the Year (1979, 1983).

Pitino left Boston U. to become an assistant coach for the New York Knicks from 1983-85, where he worked with head coach Hubie Brown. It was a team he would return to lead as its head coach in two seasons.

He was head coach at Providence College for two seasons (1985-87), producing a 42-23 record there. He guided the Friars to an NCAA Tournament appearance in 1986 and an improbable trip to the NCAA 1987 Final Four.

Before his stint at Kentucky, Pitino served as head coach of the New York Knicks for two years. In his initial year there in 1987-88, the Knicks improved by 14 victories and made the NBA Playoffs for the first time in four seasons. The Knicks won 52 games in 1988-89 and swept the Philadelphia 76ers in the first round of the playoffs.

Aside from his hoops prowess, Pitino has achieved success off the court as well in such realms as broadcasting, publishing, motivational speaking and horse racing. He is an accomplish-ed author, producing such books as the best seller "Success Is A Choice" and "Lead to Succeed."

He earned his degree in 1974 at Massachusetts, where he was a standout guard for the Minutemen's basketball team. His 329 career assists rank eighth all-time at UMass and his 168 assists as a senior is the sixth-best single season total ever there. Pitino was a freshman during NBA legend Julius Erving's senior year.

Born Sept. 18, 1952, Pitino is a native of New York City where he was a standout guard for Dominic High School in Oyster Bay, Long Island. There, he captained his team and established several school scoring marks.

Pitino and wife Joanne have five children: Michael, Christopher, Richard, Ryan and Jacqueline; and four grandchildren: Anna, Audrey (Michael's children), Andrew (Christopher) and Ava (Richard).