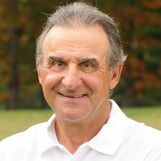 Robert Rotella
World's Leading Sports Psychologist, Best Selling Author
X
Program Descriptions
Golf Is Not A Game Of Perfect
Robert gives a speech based off of his best selling sports psychology book of all time, and one of the three best selling golf books in history.

Golf Is A Game of Confidence
Dr. Robert Rotella creates an attitude and mind set common in achievers in all areas of life, business and sport. His programs get results. He uses proven principles to banish limitations and show individuals how to play their best in life, business, and sports.

Success is an Attitude
Dr. Rotella believes that success is all about one's perception of life, self and others. In his presentation, "Success Is An Attitude," he will explore the importance of believing in ideas and dreams.
Why Book Robert Rotella?


Dr. Rotella is the world's preeminent sports psychologist and performance coach who helps golfers unlock their potential and scale peaks they could not otherwise reach.
The bedrock concepts of his philosophy are free will, commitment, persistence and confidence, all things that can be applied for success in business, sports and life.
He has coached the winners of 74 major championships in men's, women's and senior professional golf.
Internationally celebrated for his work in the area of applied sports psychology, Dr. Robert Rotella is consistently recognized as the Top Sports Psychologist in the world. Dr. Rotella's golfers on the PGA Tour have won at least 25 of the 40 tournaments played for each of the last 15 years. Rotella's book, "Golf Is Not a Game of Perfect" is the best selling sports psychology book of all time and one of the three best selling golf books in history.
Dr. Rotella has worked as a consultant for personnel for the NBA, NFL, Major League Baseball, Nascar, PGA Tour, LPGA Tour, Senior Tour, U.S. Olympic Ski Team and the U.S. Olympic Equestrian Team.
Companies he has served as a corporate consultant include Merrill Lynch, General Electric, Ford, Tim Life, Coca Cola, Chrysler, Newsweek, Pepsi-Cola, Taco Bell and Pizza Hut.
Dr. Rotella's golfers on the PGA Tour are proven winners, including British Open Champions Padraig Harrington and Darren Clarke, Masters Champion Trevor Immelman, US Open Champion Graeme McDowell, and Keegan Bradley, winner of the PGA Tour Championship. As a teacher, Dr. Rotella has been selected as one of the top 10 golf teachers of the 20th century, and he directed the leading graduate program in the country for 20 years at the University of Virginia.

Dr. Rotella has dedicated his life to helping coaches, athletes, business leaders, and salespeople use their minds and emotions to take them to the top of their chosen professions.