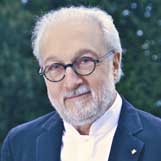 Robert Spector
The Nordstrom Way
Traveling From
Washington
X
Program Descriptions
The Nordstrom Way Principles of Customer Service Excellence
Through vivid storytelling and examples, Robert takes the audience on a tour of the 10 principles that comprise The Nordstrom Way.

Creating and Telling Your Company Story
Developing a compelling narrative about who you are, how you started, what you stand for, and your purpose and vision, is the foundation for building an authentic and powerful company culture and brand. Learn how to tell your story to your employees, and infuse your culture with that story. Then discover how that story can be reflected outward to your customers in meaningful ways.

Building a Culture of Customer Service Excellence
World-class customer experiences are created from the inside of an organization out. Discover a wealth of ideas for creating a great customer service culture.

Multi-Channel Touchpoints
Today's customers want companies to know them – their preferences, their purchases, their history, and their credit card numbers—across all channels. They want the same brand experience whether in store, online or on the phone. The customers who spend the most money and shop the most often tend to shop multi-channel. Learn how to create a seamless customer service experience.

Creating Great Customer Experiences
To create the ultimate customer experience, you must view your business through the eyes of your customer. Would you want to be a customer of your organization? Learn how to deliver a consistently inviting, helpful and easy experience across all touchpoints. It's more than generating quality transactions, it's about building lasting relationships.
Robert Spector is a Seattle-based best-selling author, international speaker, and founder of Robert Spector Consulting, which works with companies all over the world on creating their own customized superior customer experience. He is recognized globally as the ultimate authority on customer experience and The Nordstrom Way.

He is author of the business classic The Nordstrom Way: The Inside Story of America's Number One Customer Service Company (John Wiley & Sons). BusinessWeek said, "For anyone looking to understand customer service at its best, this book bubbles with insights." Robert takes readers on a deeper exploration into this unique company culture with his all-new book The Nordstrom Way to Customer Service Excellence: The Handbook for Becoming the Nordstrom of Your Industry.

Robert has been a professional speaker since 1995. He has spoken to a panoramic collection of companies, organizations, trade associations, governmental agencies, conventions, corporate retreats, and special meetings in 24 countries.

His other books include:
Amazon.com: Get Big Fast (HarperBusiness)— the definitive story of the e-commerce giant, which has been translated into 18 languages. Professor Philip Kotler named the book "a business history classic."

Anytime, Anywhere (Perseus Publishing), which foretold by a decade the game-changing impact of omnichannel retailing. Guy Kawasaki said: "Spector does the seemingly impossible: explains how to align your channels of business."

Category Killers (Harvard Business School Press), the first in-depth look at the impact of big box stores on consumer culture. Paco Underhill noted: "Spector is America's preeminent retail historian, in the tradition of Stephen Ambrose."

The Mom & Pop Store: True Stories From the Heart of America (Walker & Company, 2009), a memoir of practical lessons learned working in his parent's butcher shop. It is also an American road story full of profiles of dozens of small independent retailers from a cheese shop in Greenwich Village to a bookstore in Bellingham, Washington. Seth Godin said, "We need more mom and we need more pop. Do you want to know why? Because they care. Caring matters. If you need proof, Robert Spector has it."

Spector has written the authorized corporate histories of a wide variety of companies, including Pizza Hut, Kimberly Clark, Chevron Shipping, Eddie Bauer, and the Seattle Space Needle.

He has contributed articles to a plethora of publications, including The New York Times, The Wall Street Journal, Sports Illustrated, and National Lampoon. He has been a guest expert on countless national and local television, radio, and Internet programs, and is quoted in publications throughout the world.

Robert Spector Consulting (RSC) helps clients create a culture of customer service excellence through inspirational keynote presentations, customized workshops, and comprehensive consulting services. RSC breaks down the elements of its philosophy of customer service excellence and explains how they can be adapted for virtually every kind of organization. A graduate of Franklin & Marshall College, Robert teaches retail leadership at the University of Washington School of Business, drawing from the work he's done on Seattle-based giants including Nordstrom, Amazon.com, Starbucks and Costco. Robert believes that the elements of world-class customer service are the same, whether they come from Nordstrom, Amazon.com or Spector's Meat Market.
Books