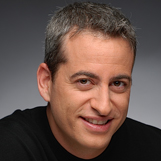 Ron Feingold
The "One Man A Cappella Jam"
X
Program Descriptions
The POWER OF THE SMILE
The Power of the Smile in Your Personal & Business Lives
How People Perceive Smiling and Why it is Important in Business The Science of the Smile
What is being "Aware of your Face?"
The Reassuring Properties of the Smile
Cultural Difference in Smiling
Strategies to Improve your Environment by Simply Smiling Health Benefits of Smiling

THE COMEDY A CAPPELLA OF RON FEINGOLD
Ron's Entertainment Filled Stand-Up Comedy and Music Show
Audience Participation
Custom Song Written Specifically for your Group
Why Book Ron Feingold?


What is Comedy A Cappella? Comedy A Cappella is the creation of Orlando, Florida based comedian & entertainer Ron Feingold. It's a blend of traditional stand-up comedy and A Cappella music where Ron sings ALL of his own back-ups, lead vocals and even vocal percussion on his new CD Solo Effort. He is literally a one man vocal band, relying only on his voice as his sole instrument to create a truly unique musical comedy experience!
Ron Feingold has created something truly unique and wonderful in the world of comedy and music. Fusing stand-up comedy and a cappella music together may sound impossible...

But Ron Feingold has done it!

Introducing Ron Feingold's "Comedy A Cappella!" A blend of traditional stand-up comedy with ear-pleasing a cappella music all sung by one person. What makes this show special is the fact that Ron sings ALL of his own vocals! He sings the bass, tenor, alto, soprano and lead vocals in these funny, up-tempo songs and parodies.

In addition, Ron created a Presentation entitled The Power of the Smile that explores how Smiling affects every aspect of your life by writing custom material and songs for his corporate clients as he is also a master at establishing instant rapport with his audiences.

This "one man vocal band" has traveled thousands of miles and crossed countless stages since it all started back in January 1990! Ron has performed in 46 of the fifty states, is a regular performer in the cruise and corporate industry and has opened for bands like The Beach Boys, REO Speedwagon, Grand Funk Railroad, BJ Thomas and Grammy winning Jazz vocalist Diana Krall.