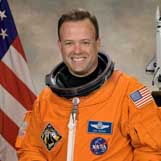 Ron Garan
Space Station & Shuttle Astronaut, Aquanaut, Test & Fighter Pilot, Social Entrepreneur, Humanitarian
X
Program Descriptions
The Orbital Perspective: Lessons Learned from a Journey of 71 Million Miles
Explore topics affecting society, business, the environment, and our lives through the lens of the orbital perspective: trends, patterns and truths emerge that can shift our understanding and perception in a profoundly positive way. Discussing a long-term, big-picture perspective has the power to transform ourselves, our communities, our companies, our nations and the world. Individuals and Global companies, are better positioned and empowered more than ever to lead change and garner profound results.

Leadership in the 21st Century: The Key is We
The true leaders of the 21st century will be those who understand that we can no longer go it alone. The problems facing our world are too big, the challenges too critical and potential catastrophe too imminent to adhere to the old way of doing things. We must be able to find ways to set aside our differences and work together toward our common goals. The successful companies of the future will also realize that they can do well by doing good. Ron Garan knows firsthand that the definition of Corporate Social Responsibility (CSR) is being turned on its head.

Exploration is in Our DNA: Change is Risky Business
The desire to see over the next hill has propelled humanity to ever-increasing capabilities. In society's rapidly changing landscape, not exploring new ways to push human capabilities is no longer an option. With any change comes risk. Ron Garan pulls from decades of risk management experience as a seasoned fighter pilot and astronaut and drives home the point that today, the riskiest course of action is to do nothing. Organizations need to embrace change and understand that the riskiest course of action is to keep doing the same things the same way.

Innovation: Beyond the Buzzword
Innovation is not doing the same thing better, it's doing something completely new and radically better. The fundamentals of business are transforming and the impossible is becoming possible on a daily basis. Ron Garan illustrates how exponentially increasing technology is causing trends and economic engines to develop that, if embraced and accelerated, could have a profound, positive effect on the environment, society, and a business's bottom line.
Why book Ron Garan?
Ron's orbital perspective has had a profound positive impact on millions. #TheKeyIsWe
Ron has spent 179 days in space, 18 days at the bottom of the ocean, and would be honored to share your stage for a day
Ron is a public speaker on the topics of not just his aquanautical and astronautical adventures, but also change, leadership, corporate social responsibility, sustainability, and innovation. Ron is a creative and brilliant man with a passion for intelligent social enterprise
Ron is a highly decorated Combat Fighter Pilot and Test Pilot, Explorer, Artist, Entrepreneur and Humanitarian who believes that appropriately designed and targeted social enterprise can solve many of the problems facing our world. He is currently Co-President and Chief Pilot for World View Inc., a pioneering high altitude and space company bringing communications technology, sensors and passengers to the edge of space.

Ron is a retired NASA astronaut who has traveled 71,075,867 miles in 2,842 orbits of our planet during more than 178 days in space and 27 hours and 3 minutes of EVA during four spacewalks.


Time in Space: 178 days, 23 hours, 54 minutes
Space Missions: STS-124, Soyuz TMA-21, Expedition 27/28 Spacewalks: 4 totaling: 27 hours, 3 minutes
Undersea Missions: NEEMO-9
Time on Bottom of the Ocean: 18 days, 3 hours, 14 minutes

He flew on both the US Space Shuttle and the Russian Soyuz spacecraft. Ron is also an aquanaut and participated in the joint NASA-NOAA, NEEMO-9 mission, an exploration research mission held in Aquarius, the world's only undersea research laboratory. During this mission, he and the crew spent 18 continuous days living and working on the ocean floor.

Ron's last NASA assignment was in NASA's Open Innovation Initiative, which seeks to increase openness, transparency, collaboration, and innovation within government. In this capacity, Ron has been involved in many global mass collaboration and citizen science programs.

Prior to retiring from the US government, Ron was on assignment with the US Agency for International Development (USAID). At USAID he led an effort called Unity Node to develop a universal, open source, collaborative platform to enable humanitarian organizations around the world to work together toward their common goals and assisted USAID to establish an Applied Research for Development Program.

Ron has a very large social media following (>4 million) and was included on Google Plus' "Top 25 Followed" and Kred's "Top 1% Influencer" lists. Ron has been effectively using these platforms to tell the success story of the US and International Space Programs and started an initiative called Fragile Oasis to use the "Orbital Perspective" to inspire people to improve life on Earth.

Outside his work with the US government, Ron is also a serial entrepreneur and has founded multiple business enterprises and social-impact focused startups including Manna Energy Ltd which was created to leverage the Carbon Market to finance humanitarian projects in developing countries. Manna Energy Ltd. is the first organization in the world to successfully register a United Nations Clean Development Mechanism carbon credit program for water treatment. Manna also developed, under contract with a partner organization the largest water treatment intervention conducted by a private organization – a four-million-person program operating in Kenya, completely funded by carbon credits.

Ron represented Manna Energy Ltd as one of ten global innovators in the field of water purification during the 2009 Launch-Water forum (sponsored by NASA, US State Dept., USAID, and Nike) and is now a member of the Launch Council. Ron has been selected as the technical and scientific advisor to the Social Business movement and its founder Nobel Peace Laureate Muhammad Yunus.

Ron is also a frequent guest on internationally syndicated news programs including CNN, Fox, and ABC and has hosted shows with the BBC. He has written extensively on a variety of current topics in numerous publications including USA Today, Newsweek, The International Business Times, and many others. Ron is in the process of establishing a new podcast, writing several new books, and has founded a non-profit coalition of international astronauts to inspire humanity with lessons gleaned from the orbital perspective.

Ron is the author of the highly acclaimed book The Orbital Perspective. Hailed by Time Magazine as "the most important tale ever told from space" and Space.com proclaimed it as one of the best space books of all time.

Ron routinely books speaking engagements to audiences in the thousands at high profile venues around the world including TED-Global, the Global Citizen Festival, Google Zeitgeist, the United Nations and many more.